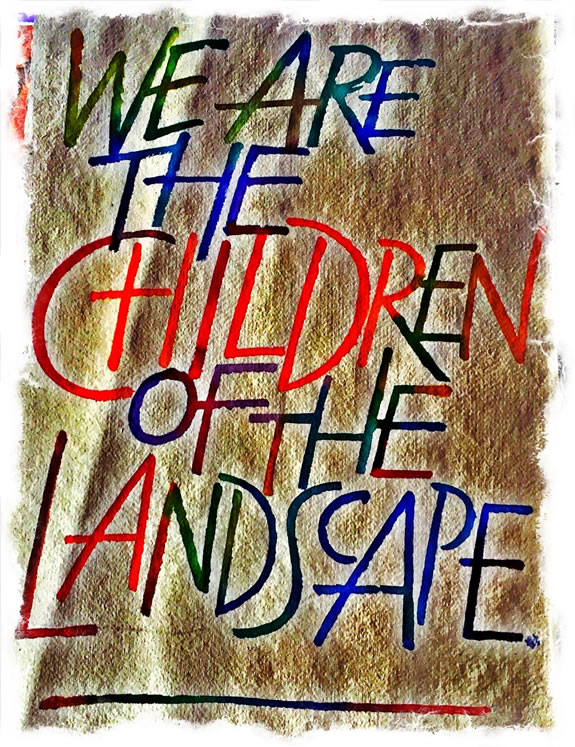 Contentment, placemaking and presence.
Sometimes I study the context of people in their place.
What
is it for them?
How
are they doing?
What
are they being?
That examination works in the context of brands, enterprise and leadership.
What is the culture of a place,
and how does it influence people?
Is this place happy?
Is this place unhappy?
Feverishly Pressured?
Quietly calming?
Energetically Unclear?
Wildly Stressful?
Meandering along?
As I note in an older colored calligraphy – "you are the child of your landscape."
What you live,
is evidenced in the interweaving of you —
in your environment.
And to be in an environment presumes that
you are an aggregate of your conditions of your life — and place, made.
And you are made
in
your place.
You make the place —
and the place makes you.
Surrounding, literally — is the flow around — so in the quality of how you immerse yourself in your place — you're either here, or there, or not.
To the work of a brand experience designer, and their experiencer sojourner — the journey-in,
the journey-through —
and the journey-out —
it is a matter of
what selected elements —
of that "thingness" in place —
align to a personal way that you are there,
in there.
In here.
You happily sync to the sense of color and light;
there are things to touch — that are just right;
you align to the sounds and scents
— and yes, tastes —
of what could be found in this place.
There you go.
There you be.
Tim | GIRVIN | OSEANSTUDIOS
…..
G I R V I N | DESIGNING MOVIES
THEATRICAL BRANDING + ENTERTAINMENT
IMAGINATION: AND THE TOOLS TO MAKE IT HAPPEN
http://goo.gl/chrZuE