Small signs that tell a big story


Environmental messages in place-making
What if, when you came around the corner to a place in your office and there was a delicate message, reminding you of something, like: "Care"?
"Do more, because you can."
"Be better."
What we've learned over time is that people notice the small things while they walk by the big things. Spectacle can be tiny.
What if there was something on your window, and then you realized it was a message, for you, about your work, what you're being?
Thinking about designing delicately can hit harder, like our work for SBRI and Raikes — messages are not hammered, but arranged in an Easter Egg and surprise-based, discoverable manner. In our work on Disney, after-comments from visiting guests was all about the small stuff, not the big spectacle. "It was that journal in my room, that matched my little accessory, that fit in the patterning of the floor — subtle stuff." Then you notice it all comes together in the balance of the big and the small, an integral gather of stories, layered experiences that add on, and on.
I was thinking about that, looking at the tiny messaging in elevators, like "Call Fire Dept." The tiniest little notation, but rather critical. I would imagine that there's a presumption that if you're stuck in an elevator, you'll have the interest in closely studying escape solutions.
I was struck by the The Ministry of Design's efforts in big message, tiny message balancing in brand voice for Leo Burnett | Singapore. Interestingly, we partnered with Leo Burnett, not only on our work for United Airlines — the redesign of the global brand and Disney. Working with them, in Chicago, was about assertiveness in pushing the edge of the creative ideal. Never compromise. Push harder — or, as Mr. Burnett intoned: 7+. HumanKind.
What we admired about their work, Ministry of Design's office graphical treatments for Leo Burnett — was the balancing of big message with small and delicate expressions.
Big:

Small: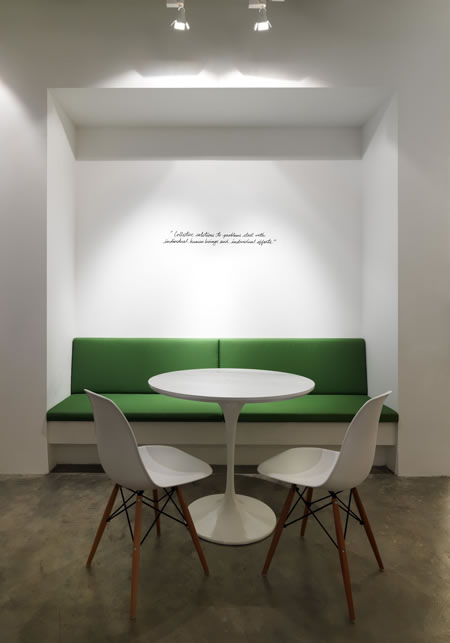 An anamorphic procession:

Ministry of Design's commentary:
Dezeen
LEO BURNETT OFFICE
Leo Burnett, the quintessential Ad man and creativity personified. In designing a space for those who bear his legacy, Ministry of Design conceived of 3 unique environments that separately capture a different aspect of the total creative process but yet connect seamlessly in spirit and tempo.
TIM
…..
THE STRATEGY OF IMAGINATION +
EXPERIENCE = PLACE
DESIGNING ENVIRONMENTS:
PLACES | RETAIL | RESTAURANTS | SPAS + WELLNESS CENTERS