Exploring brand storytelling for restaurant experiences, notations and process.
I'd met Antonio Corsano on a recommendation, or a referral, from Paul Bertolli. I've talked about this marvelous person in the past. The work with Paul, of course, was building out the visioning of his brand, and the layering of the component messaging and visible language. Like every attribute of my work, the savoring attribute of action is the connection with the person, the human brand.
And, in everything tied to creating great food and experiences, there's a human touch — and likely an empowering story — that deepens the character of the brand cohesion with, and for, the culture of the community and the guests that are visiting.
And the next move, in considering a partnership in supporting the Rosi family, the founders and scions of the Parmacotto legacy, was the story.
The story of Salumeria Rosi.
There were two parts of our involvement — for one, simply, the identity and signing applications; and for the second part of the collaborations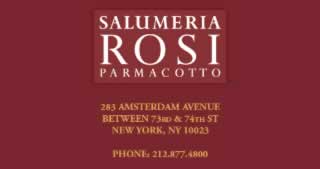 and the opening strategic foundations — how to think about the heart of the brand, the strategy, the story, the messaging — and what that might be, in designing the holistic experience: visualized. Logo: simple, customized, Girvin hand-drawn fonts – made for the Rosi clan.
But then the second part was about the story, founded in authentic revelation, yet strategically in keeping with the premise of the offering and family distribution interests.
So I spent time with the family, listening, asking questions, exploring — their history. As well, the new legacies in advancement. Here's the story that I told.
About them:
The Stories of Salumeria Rosi
This is our story. It is one story, but it has many layers; it is richly savory like our salumeria offerings, but there are many nuances to how it all has come to be.
For us, our story is really about sharing our lives with you — because our family, the Rosi family, is about opening our way of life. And our telling of these stories is our way to make you a friend, even a member, of the Rosi clan. The Rosi family has created our first Salumeria in your neighborhood after many months of planning and hard work — but the vision for this offering is long-running. In fact, it is the heritage of our family.
Let's start with the story of where we come from, Parma, Italia.
Parma — the Story of Our Family's Beginnings
Our hometown, Parma, has long been one of savoring the art of living. And Parma is a city with a distant history — there have been people living here for thousands of years. It is a town of music, of art, and of what we'd like to say is the finest food of Italy. Our Parma celebrates the arts — it has even been called a muse — for travelers and explorers, intellectuals, writers and composers, poets, the makers of art, designers, architects and master musicians; there are many in history that have been captivated by, or born within the gates of, Parma — from the explorer Vittorio Bottego, the poet Attilio Bertolucci (and the director, too — Bernardo Bertolucci), the musician Alessandro Cortini, the conductor Arturo Toscanini, our beloved opera composer, Verdi, the French writer Stendhal — even your American author, John Grisham, was fascinated by Parma, plotting a story here. Our famous artists have included masters like Francesco Mazzola (who we call Il Parmigianino), the painters Araldi, Anselmi, Bedoli, Correggio, and many others — our Parma inspires. But there is an art to food; and the love of food in Parma is all about our passion and our art. And our excitement to share this with you.
We are, the people of Parma, famous for our food — and our love of making it. Of course you know about our heritage in cheese — this is Parmesan, or Parmigiano Reggiano cheese. But then, as part of our culture, there is the Prosciutto Crudo — the Parma Ham. This comes from a history that goes back to Roman times, the specialty of caring for, curing, salting and drying meats with flavorings, as well as our process of artfully cooking our products — and there is, herein, another story of our family, and our art.
Parmacotto, Our Family Story, Our Spirit and the Founding of Our Company
Parmacotto is the dream, the visioning of our father, Marco Rosi. We think about our family as having these qualities as part of our genetic heritage. First, we are about passion and commitment — about focus and hard work. Stefania and Alessandro — the children of this brand vision — were given the choice, just like our father — of doing just what we wanted to do in our lives. But each of us chose food — and the making of an extraordinary product.
Let's start with the story of our father, Marco. He started with studies in accounting — but soon he realized that working in a bank was not in his blood. Just like his father, Buonfiglio Rosi, there was a passion for commitment and innovation — who supported his drive to achieve something important, something new in his life. He said — "you have a dream" and you must find that dream. In 1966, he got to work on finding that dream and building on that vision!
He began with his brother, Antonio — and the two brothers founded their opening company selling Parma Ham and Parmesan Cheese; their initial offerings to be sold at fairs throughout Europe. They expanded in their trade — adding foreign products, like Danish, Swiss, Dutch and French cheeses for distribution in Italy. But the Rosi family dream continued — and there is another part of our family legacy: courage.
Courage means heart, in Italian — and for our family, it is about the core of our philosophy: we put our heart into our products and our innovation. The Rosi brothers — they wanted to push beyond the lesser quality of the Parma ham, then largely packed in tins. The market, during that time, was filled with products that were poor — and there was nothing, in terms of larger scale production, that was quality driven. Most of the truly superb, best tasting products were made by hand, in the artisanal tradition. The Rosi brothers began to explore the idea of creating increasingly better products, responding to the theme of the times, during the early 1980s — quality, healthfulness, naturally made and carefully produced, even gourmet, items.
While their approach was modern, they reached to the past to rebuild, anew, the richer character of the legacy of Parma — the birthplace of all greatness in Italian food. Our name, Parmacotto, which is an invention in itself, speaks to our spirit — Parma, our land, our sharing, our history and Cotto, which, in our language, is "cooked". But we like to think about this idea of cooking, as heat, as in the warmth of living fully — as our passion, our courage, to commit and invent.
Cesare Casella, the Story of Our Culinary Leadership
Our family has grown to include a rich contribution that we deeply value — the expertise of one person that can truly represent our spirit in NYC — a leader that can speak for us, from the kitchen. For us, the very idea of the kitchen is something special; it is the hearth, the place of warmth, in the center of the family heritage — the place where the family comes together. That person who is at our heart in NYC is Cesare. And Cesare, like us, is a person of dreams.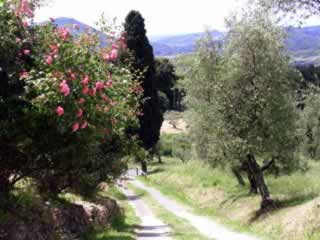 His family character centers at the heart of passion for food — he began early, at his mother's side, working as a sous chef in the family trattoria — Vipore, which is just outside of Lucca, Italy. At the incredibly early age of 14, Cesare began his studies for a love of preparing and presenting the very best in Italian food at the Ferdinando Martini Culinary Institute, in Montecatini. After his apprenticeship with this master of Tuscan cooking, Cesare returned to Vipore — transforming the rating of the trattoria to a Michelin-starred gem. But all dreams grow and evolve.
Cesare then moved to NYC, bringing with him all of his experience and expertise, starting early with his mother, his training at the side of Martini and managing the family restaurant. The fabulous passion of his earlier exposure created boundless enthusiasm for his offerings in NYC — the restaurants Beppe and Maremma are both wildly popular and critically acclaimed.
His fantastic energy extended to authorship and teaching — he's written three books on the artful foundation of the cooking of Tuscany. His experienced leadership has brought him the deanship of the Italian Culinary Academy, as well as the renowned International Culinary Center (formerly named — The French Culinary Institute).
For the Rosi family, and for your neighborhood, we offer this expanded heritage of finely produced, lovingly served and knowledgeably discovered Tuscan products, all under the watchful eye and culinary guidance of this Maestro from Lucca.
Dante Ferretti: The Italian Legacy of Our Store Design
As Italians, and coming from the beautiful city of Parma, where there are hundreds of years of creativity in architecture, art, interiors and design, we are lovers of things that are rich in concept, profound in the care of their making and thoughtful in their implementation.
So rather than hiring a conventional restaurant designer, we reached to the place where imagination and beauty are intertwined to create wonderful, storytelling experiences for us all — the movies!
Our first shop in NYC has been created under the masterful vision of Academy Awards Oscar®-winning, Set and Production Designer, Dante Ferretti.
Besides that, and surely more important to us, he is a close friend of our family. A little more boasting about our friend Dante. He has created set designs for Martin Scorsese's Gangs of New York (another favorite US Italian!), as well as our directors Federico Fellini and Pier Paolo Pasolini. His Oscar Awards represent his work on The Aviator and Sweeney Todd. As well, he is a winner of three British Academy of Film and Television Arts Awards. We are proud of Dante!
In sharing our vision, as family and friends around our table, Dante was enthusiastic about the idea of bringing the Rosi passion for Italian traditions of the enoteca and salumeria to the NYC community — as well as spreading the word to the rest of the United States.
Once again, in celebrating the spirit of the Italian culture and gastronomy, Dante has treated our restaurant, his restaurant design debut, like a film set — for creating, in a way, a story for you that you might share with friends and family, as you come to visit us.
The Salumeria Rosi Parmacotto Story
Our vision for the Rosi Parmacotto enoteca and salumeria is just like what you might experience on the streets of our home in Italia — you can come and join us in your neighborhood, or you can gather what you need, to take out for lunch or dinner. The history of the concept of the salumeria is an ancient one — salumi comes from Etruscans and Romans using cured meats as a way to preserve them, using spices and salt, and cooling aging that can take months of preparation — and this art continues with our family Rosi salumeria. We are, in way, reviving a tradition, in our opening a salumeria — here in your neighborhood — one that holds to our experience of our decades in making excellent salumi. As well, we are holding up a beacon for a cherished cultural heritage that is slowly fading as an artisanal food tradition in Italia.
We have brought carefully product offerings, special Italian meat-cutting tools and items for preparation that will be distinctly unique in NYC — whether they are presented in our restaurant, for you and your friends and family, or at your home — for sharing. Everything that we offer is authentically part of our family tradition, of Parma — and other selected parts of Italia. Our antipasti, salumi, olive bar products, panini, bruschette, formaggi, contorni and wine selections will be masterfully prepared — or selected by — Cesare Casella.
tsg | parma, italia
—-
The completed place —

designed with the spirit of the riveted ocean-liner, a sculptural array of italian food stretching across the mirrored space,

serves only a small crowd, but service extends to a number of offerings for takeaway and prepackaged sale.