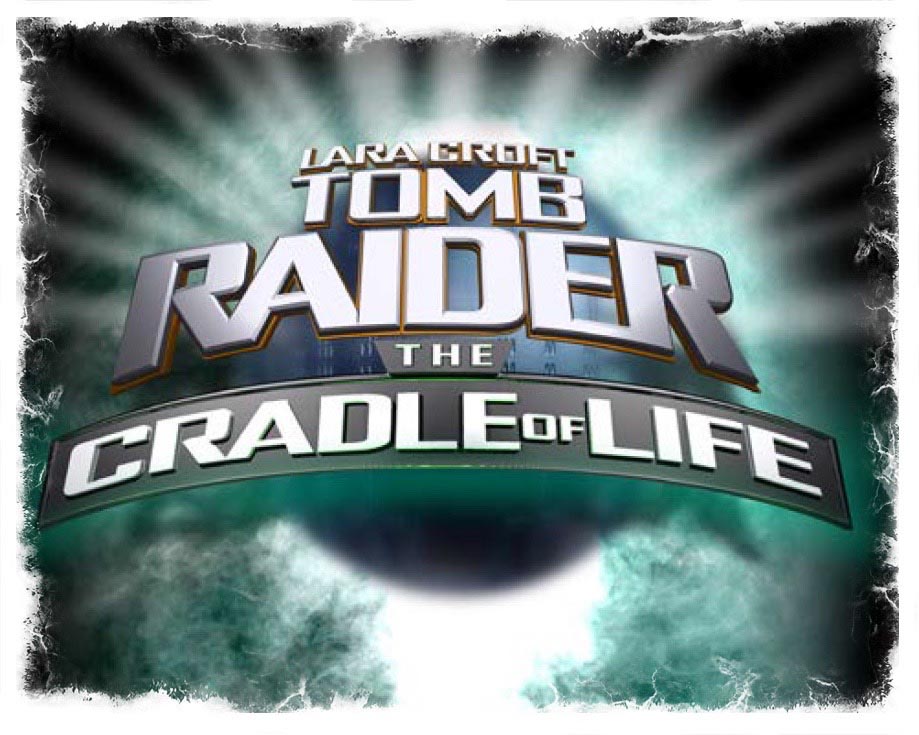 EARLIER, WORKING WITH BRYAN ALLEN AND NANCY GOLIGER—THE CREATIVE LEADERSHIP AT PARAMOUNT—I WAS ASKED TO ADVANCE THE BRAND IDENTITY STORYTELLING DESIGN AROUND THE FILM "LARA CROFT TOMB RAIDER."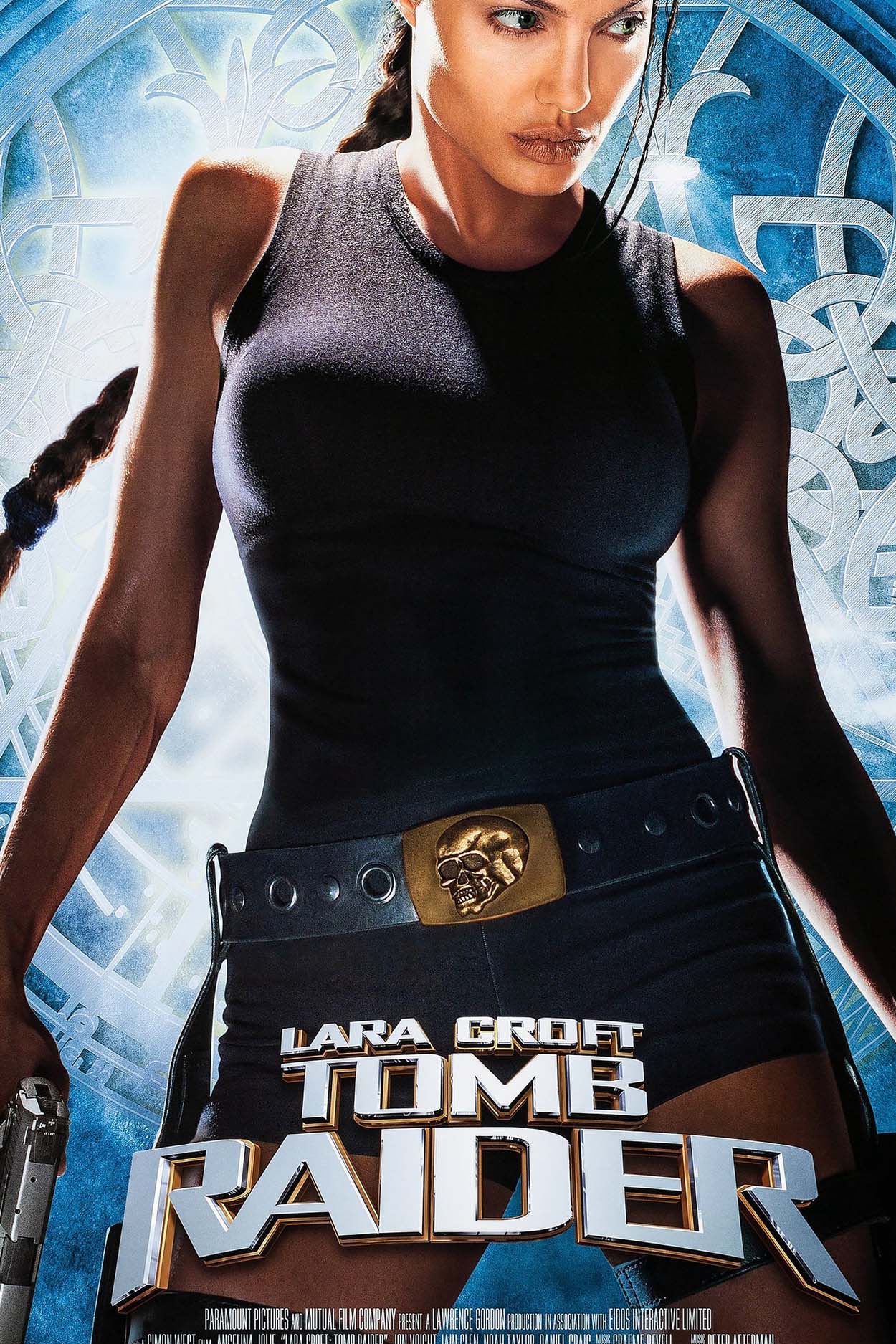 2
We worked on both Angelina Jolie properties, under Simon West's direction, starting with the first, then evolving the second, "Cradle of Life" several years later.
As the storytelling suggests, the first Tomb Raider is an action adventure based on the Tomb Raider video game series featuring the video game character: adventuring archaeologist Lara Croft.
It was built as an international co-production between the United States, the United Kingdom, Japan and Germany, directed by West and the latest narrative revolves around Lara Croft trying to obtain ancient world-shaping artifacts from the Illuminati.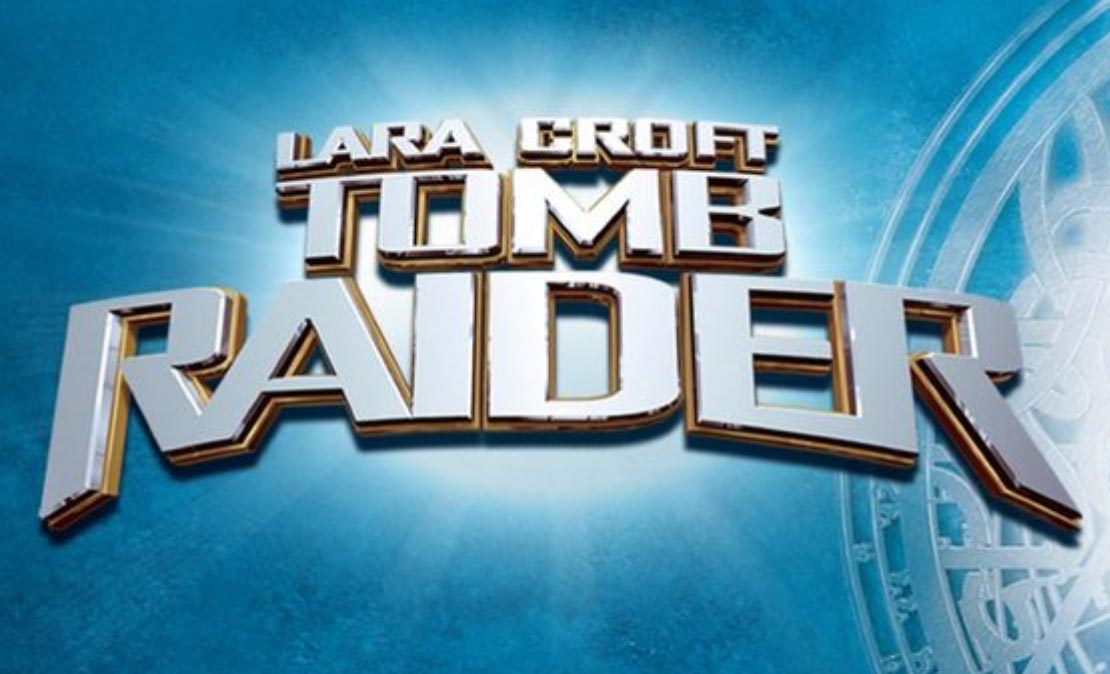 We worked on the core branding, the master art for the identity—as above–that ultimately derives, as a storytelling from the earlier video player games. To build that, there was a study of another kind of archaeology: brand excavation—digging into the past to study the history of brand, so we could use some of those design genetics into our evolutions. Here's a quick summary of that lineage—as gathered by this team.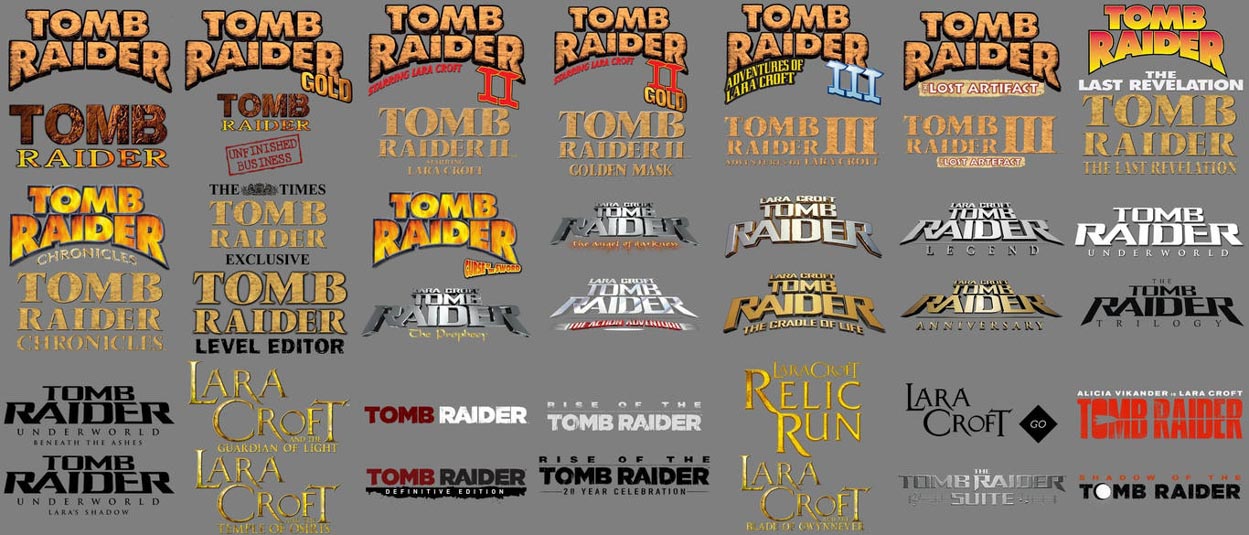 What's compelling—in a particularly contemporaneous narrative—about this storytelling line is that it, both of the Croft films, operate on the presumption of an aggressive, unlicensed pursuit of artifacts that would be—according to the anecdotes, linked back to an evil-intentioned ancient organization.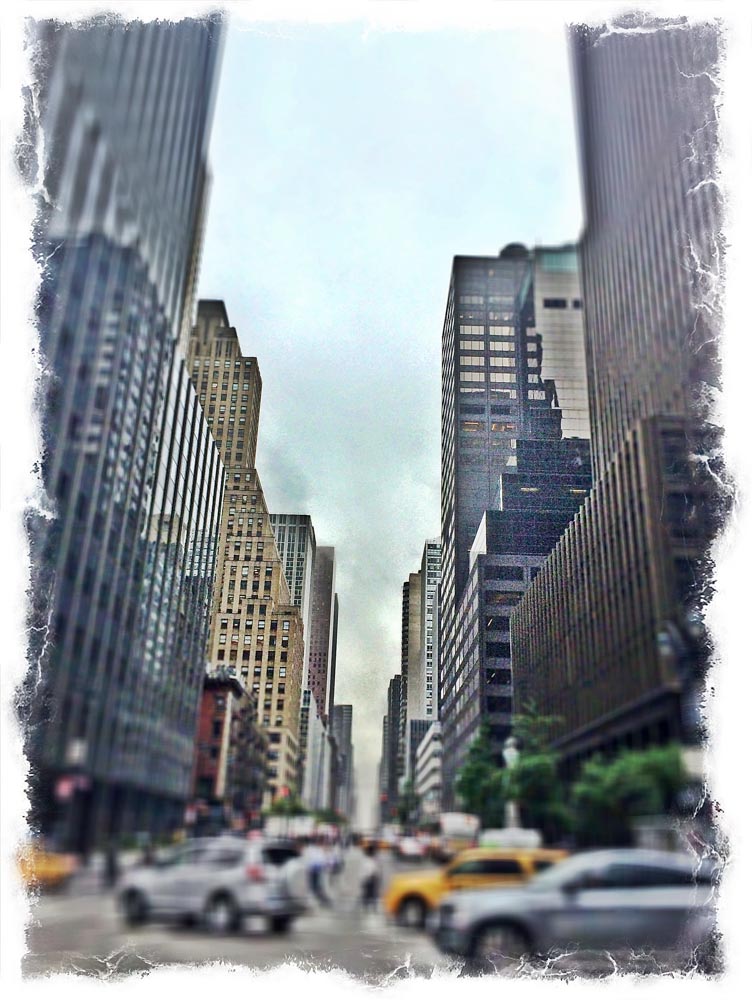 During my earlier years, studying antiquities along the avenues of upper Eastside Manhattan—I could be frequently found walking the labyrinthine galleries at the MET, auction houses and traversing the antiquity galleries in that area—back then, there were many, now there are few.
And there's a Lara Croft-style storytelling that's come to light just recently, as in: bad press and the law. The realm of the tomb raider, the criminal den of immoderate purchases, felonious acquisitions and reselling of restrictively protected ancient art.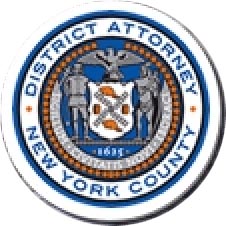 Scouting the NYC DA's office, a new story emerges, wrung through The Atlantic—but the core spin comes the District Attorney's website. As below.
DECEMBER 15, 2021
Almost 100 artifacts seized from Fordham Museum of Greek, Etruscan, and Roman Art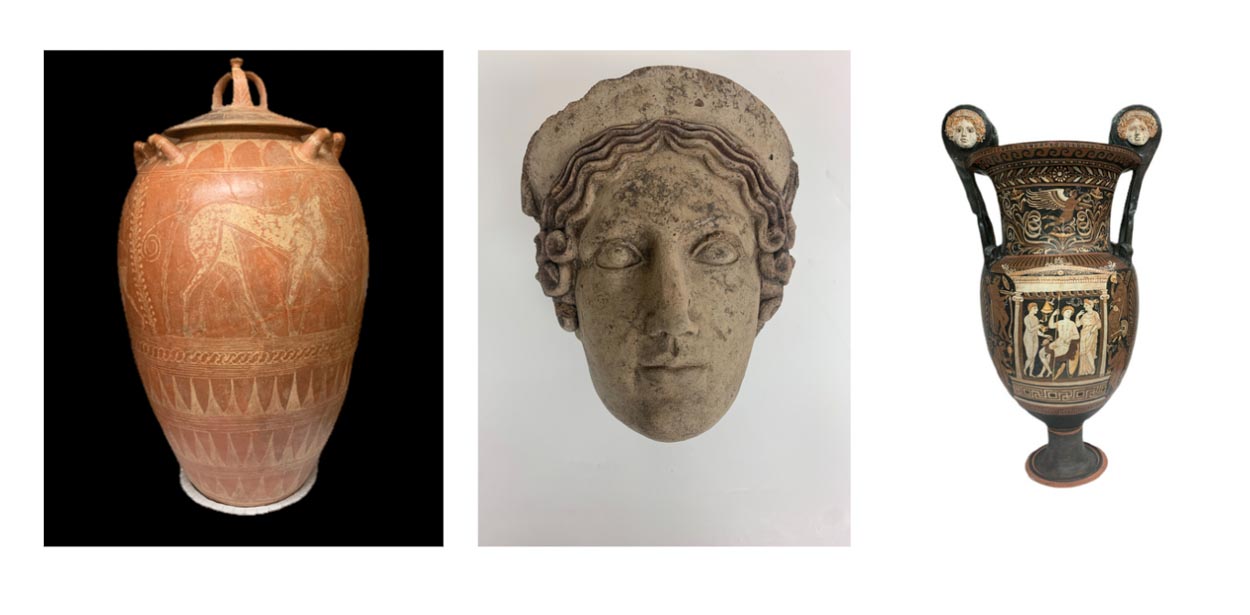 Pictured (from left to right): Pithos with Ulysses, Head of a Maiden, and Baltimore Painter Krater
To another side to cinematic archaeology, another starstruck portrayal would be the Indiana Jones franchise, a film grouping we didn't work on—with the exception of some on-Lot, in-studio sketches and notes on typographic specificities with the Paramount theatrical branding team. To breaking up the network of thieves, here's the quote, from just a couple of days ago 12.15.2021.
Manhattan District Attorney Cy Vance, Jr. today announced the return of 200 antiquities valued at an estimated $10 million to the people of Italy during a repatriation ceremony attended by Italy Consul General Fabrizio Di Michele, Italian Carabinieri Tutela Patrimonio Culturale ("TPC") Brigadier General Roberto Riccardi, and U.S. Homeland Security Investigations ("HSI") Deputy Special Agent in Charge Erik Rosenblatt.
"For years, prestigious museums and private collectors across the United States prominently displayed these Italian historical treasures even though their very presence in America constituted evidence of cultural heritage crimes," District Attorney Vance. "The repatriation of this dazzling collection of ancient art begins to address some of the damage done by traffickers and shows the need for all collectors and gallery owners performing due diligence and ensuring pieces they purchased were lawfully acquired. I am honored to return these 200 pieces to the people of Italy – our largest such transfer of antiquities to this illustrious nation. I thank my Office's Antiquities Trafficking Unit and our partners at Homeland Security Investigations for their superb efforts that have resulted in more than 700 treasures being returned to 14 countries since August 2020."
"The organized looters and smugglers of illicit artifacts and antiquities are indifferent to what 'priceless' means, and continue to plunder and exploit the world's cultural heritage for profit," said HSI New York Deputy Special Agent in Charge Erik Rosenblatt. "The Manhattan District Attorney's Office and Homeland Security Investigations lead the global fight against transnational criminal organizations who are clearly wrong to believe they can operate with impunity in New York. Today, we have the privilege to send home 200 pieces of stolen history to the government of Italy, and we will continue to use this momentum to hold traffickers accountable and dismantle these depraved organizations driven by greed."
"It is a source of great satisfaction to see years of bilateral cooperation between the Italian and American authorities, and notably between the Manhattan District Attorney's Office, the Homeland Security Investigations, and the Carabinieri, resulting in the return to Italy of hundreds of precious antiquities, dating back as early as to 2500 years B.C.E.," said Italy's Consul General Fabrizio Di Michele. "We have selected some of these artefacts for a special exhibit at the Consulate Generale and at the Italian Cultural Institute, in order to make some of these masterpieces, stolen or looted in Italy in the past, available to New York's public before their handover to our Ministry of Culture."
Importantly, it's not only the dealers that are responsible, but the abetting of collectors—Michael Steinhardt—as in the $70m repatriation of antiquities from his collection.
But, to the Atlantic's overview, that story goes further into the Homeland Security | DANYC Antiquities anti-trafficking unit. I won't bore you with snags of content from the Atlantic—but it's a fascinating telling to the other side of "tomb raiders, art collectors and dealers" the superlatively dark side of antiquities acquisition.
A quick abstract:

When Matthew Bogdanos got a tip about a looted mummy coffin whose corpse had been dumped in the Nile, he approached the coffin's buyer—the Metropolitan Museum of Art—with few of the courtesies traditionally accorded New York's premier cultural institution.
Bogdanos, a 64-year-old prosecutor in the Manhattan District Attorney's Office, is chief of its Antiquities Trafficking Unit. The only one of its kind in the world, his squad of prosecutors, criminal investigators, and art specialists polices the loftiest reaches of New York's art market—a genteel club of museums, collectors, and auction houses that buy and sell the relics of ancient civilizations.
Intriguingly, in our own design history, we built a design package for an antiquities broker, Edwin Merrin who had his own, later storytelling wrapped around the darker side of antiquities leveraging—variously interpreted as gouging the market. And, in another instance, trafficking. In any case, he's not using our brand packaging any longer, so to each, a stride onwards.
The bridge between the storytelling of the brand Lara Croft Tomb Raider to the real world of raiding tombs, sacred sites and temple compounds
to supplant collections is a dark bridge—
one story, to another pecuniary narrative retold.

When I was reading the Atlantic overview,
I immediately recalled my efforts on Tomb Raider, which was complex and large—
core strategy and brand design linguistics, as referenced below in this study grouping.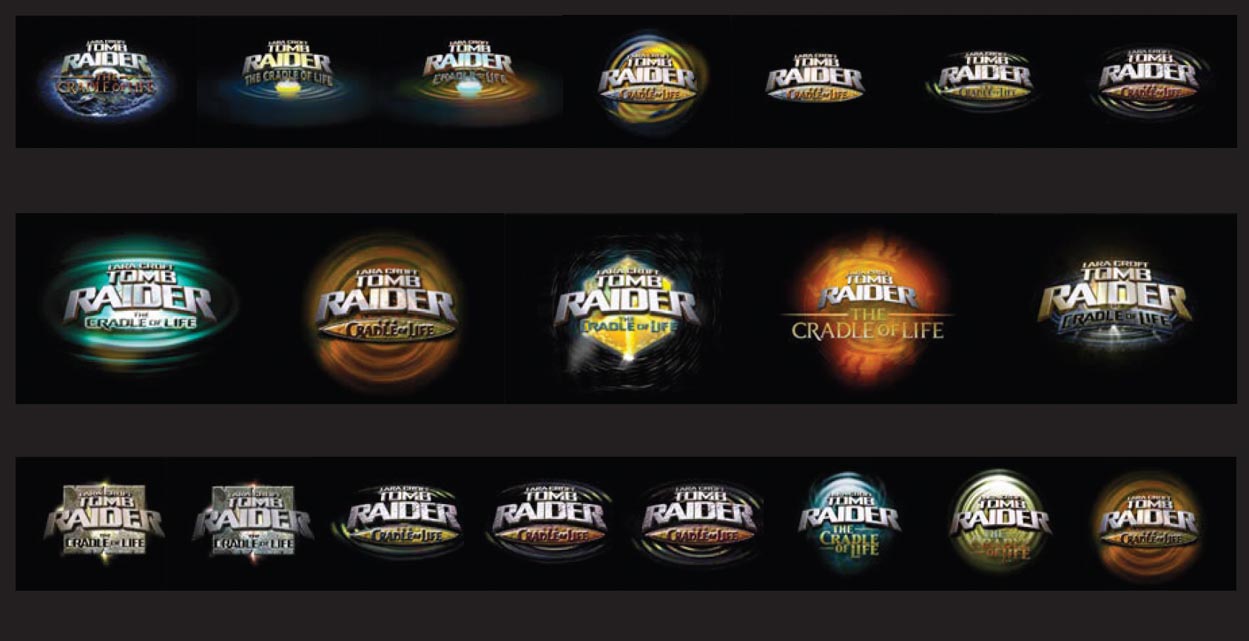 What goes round, comes round.
Even for Kim, suggested as the spark that set this blaze in motion.

Tim Girvin | Copalis Beach, Washington
Girvin's brand storytelling of theatrical marketing
GIRVIN + OSEAN
F O N D É E E N
1 9 7 6