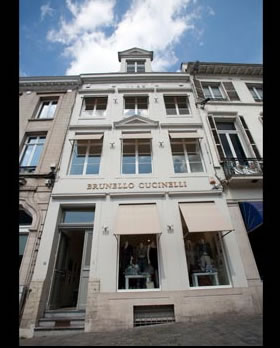 Imagery source
Exploring meaningful enterprises, true stories and the people that have created them.
I'm looking for true brands, brands that are seeking to represent themselves in the most authentic manner, have stories in play that are based on the profundity of (their) human exchange — shared within and without — given freely, in the opportunity of connection with their communities. Having that degree of honesty is difficult to manage.
Personally, I find myself looking into the character of the practice of our work, Girvin's work, and my personal work — what's my story, how is it being told, what's the relevance of it — to others; and finally, who cares? The concept of even being concerned about these matters might be questioned by some — what's the point? Why worry about it?
I might suggest that in the passage of years, doing the work of brand development and strategic evolution, you've got to see what works, and why it works. For us, the best benefit is that our relationships succeed in the efforts of our offerings. They grow. During the times of these struggling financial straits for millions of people, world wide, I have to content myself with the heart and quality of the action — it might be survival, or it might be profitable, but the heart of the work has to ring true.
The examination of creative intention, and attention, is soul searching. It's about finding one's personal truth, in exploring and defining the character of others. This has taken me to a lot of different places, around the world — brands, companies, enterprises — starting with groups that might be nearly new, to brand stories that are hundreds of years old. That might link to the legacy of Santa Maria Novella, of Firenze, Italy, a keris maker in Yogyakarta, Bali, to classic American brands like Filson, Pendleton and Red Wing Boots. We've written, too, about UK brands like Harrods and Burberry, and a host of others. I'm certain there are hundreds more to explore.
There are new management teams that seek to refurbish older brands — to freshly remake them, yet not discounting the power of the past. There are, too — as in the case study observations below — brands that are distinctly lead to, for, and by the person that is out front, leading the brand story. They are the story.
There are some story strings here to examine:
True Brands | Beautiful Authenticity | Truth in the telling | 1 (Harrods, Kiehl's, Ferrari)
True Brands | 2 (The North Face, Levi Strauss, Filson, Red Wing Boots, Worx, Irish Setter, Carhartt, Pendleton, Woolrich)
True Brands | Storytelling Brands
True Brands | L'Officina Farmaceutica di Santa Maria Novella
But that offering, each of them, has relevance in the current story unfolding. I first learned of the Brunello Cucinelli in a feature in the New Yorker. The New Yorker is one publication that doesn't allow easy searching — or review — without a subscription; I've got one, but even so, it's a digital page model, as opposed to accessible http. files. Transcription of any content must be done by hand. Kindly note that the bulk of the imagery I've pulled from the site, linked and noted below. All copyrights © Brunello Cucinelli | 2010.
• Cashmere designer Brunello Cucinelli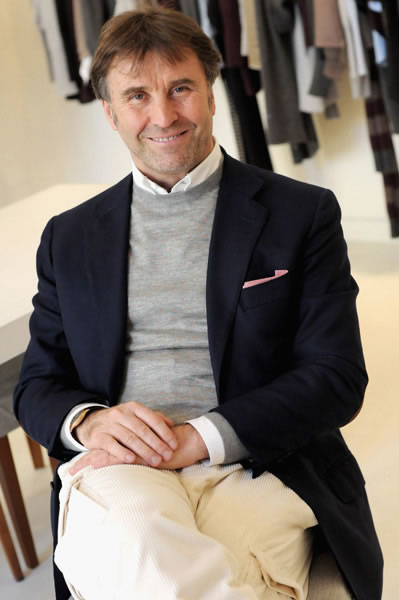 Imagery source
The abstract notes:
• Cucinelli lives in a hilltop village called Solomeo that dates to the twelfth century and has a population of fewer than five hundred. Over the past thirty years, as his company has grown from a one-man operation to a business employing five hundred people, with an annual turnover of more than two hundred million dollars, Cucinelli has been renovating Solomeo.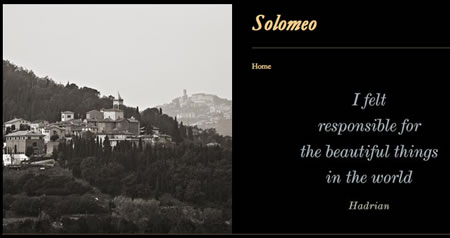 • He has enacted a peculiar fantasy of beneficent feudalism, with himself as the enlightened overlord, and the residents, many of them his employees, as the appreciative underlings.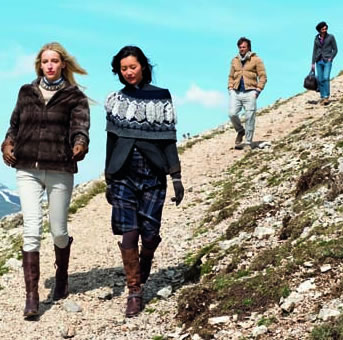 Imagery source
• Cucinelli's clothes are usually described as "sporty chic."
• He got his start, in the eighties, by making cashmere sweaters in bright colors. Presently, his sweaters are more likely to be in subtle shades of goat, and are more expensive. He has lately extended his brand into a wider range of sportswear and accessories.

• Having dropped out of engineering school at twenty-four, Cucinelli has followed a self-imposed curriculum of study, which has resulted in his assembling a personal pantheon of sages, ranging from Socrates to St. Francis of Assisi and Pascal. Along with mentions of Kant and Charlie Chaplin. A more recent inspiration is President Barack Obama, whom Cucinelli regards as a new Marcus Aurelius.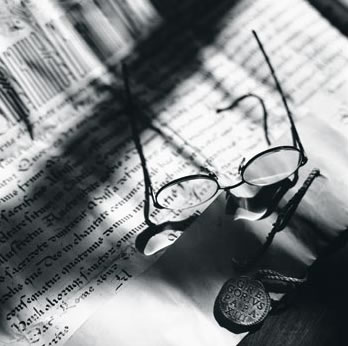 Imagery source
• Cucinelli has distilled an idiosyncratic business philosophy that draws on Renaissance humanism, Senecan stoicism, Benedictine rigor, and the theories of Theodore Levitt, the marketing scholar. Cucinelli pays his employees a higher wage than the market rate, and he attempts to infuse pleasure into the process of making clothes. He also seeks doing good for people not on his payroll, earmarking twenty per cent of the company's annual profits, he said, "for humanity."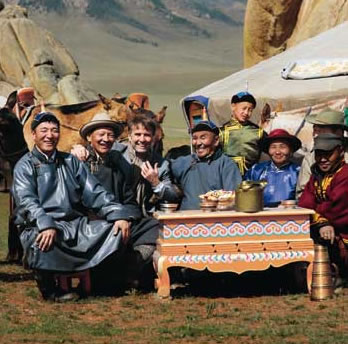 Imagery source
• His integration of high-end manufacture with a higher purpose is widely admired among his colleagues in the fashion industry.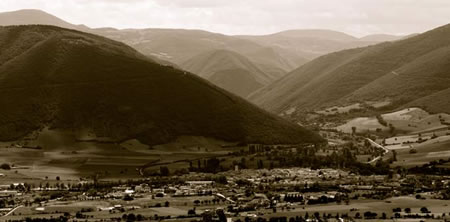 • The next project he hopes to undertake in Solomeo is the construction of a "sacred park" in the hilltop woodland. The article describes a visit to a monastery in Norcia, where Cucinelli's "spiritual father," Father Cassian Folsom, resides.
This abstract is a good overview of the founder, his opening philosophies and the enlarged plans of his exploration. I've linked the article above.
The interesting quality of his principles are laid bare, for all to view, right here. In a website that is remarkably detailed, with extensive philosophical meditations on nearly every component of his sense of business, and personal life contemplations, are outlined in an intriguing overview of his character. I've captured some of them here.
The key to my interest is the depth of careful thoughtfulness he brings to his brandspirit — it's more than commerce (and surely most brands are) but his personal explorations and early examinations of "self education" are compelling reaches into the mind of a brand leader that evinces not only the fundamental of business (it's simple) to how his endgame ranges to a higher purpose of commitment and humanitarianism (it's all about the people.)
Intriguingly, the idea can relate to the the pre-Renaissance scholastic spirit of the Humanists, who he quotes in his expressions in interviews and on his site.
To that, some notes:
Philosophy | The humanistic company
In the medieval village of Solomeo, where the serenity of the Umbrian countryside and the wind still express the spirituality of Benedetto da Norcia's ora et labora and the mysticism of Saint Francis of Assisi, Brunello Cucinelli launched a new entrepreneurial dimension in 1985.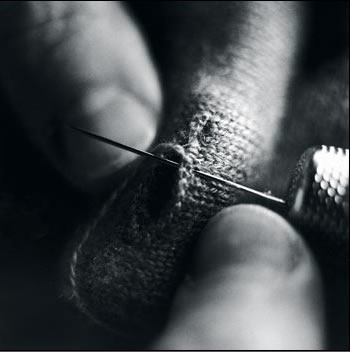 Imagery source
"To make work more humane, and to put humans at its center" is the dream of the Umbrian businessman who is famous worldwide for his color cashmere collections. Scholars and journalists have perceived the profound affinity that links Brunello with the ancient masters of the soul such as Socrates, Seneca and Saint Francis d'Assisi: for this reason they refer to the Cucinelli corporate philosophy as "Ethical Capitalism" and a "Humanistic Company."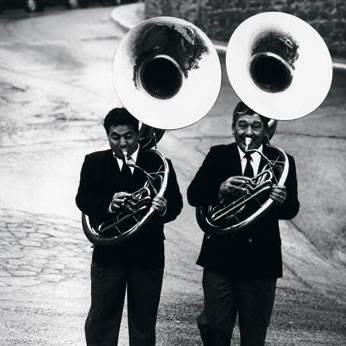 Imagery source
"I have always dreamt of working towards an important objective. I felt that profit alone was not enough, and a higher, collective aim was necessary. I realized that economic wealth must be accompanied by human values, and that the first means nothing if the second are missing". This courageous comes to life in what Brunello Cucinelli calls "the Supreme Good", with people as its center: "to give a company a sense that goes beyond mere profit, and to reinvest to improve the worker's life, and to enhance and save the beautiful things in the world".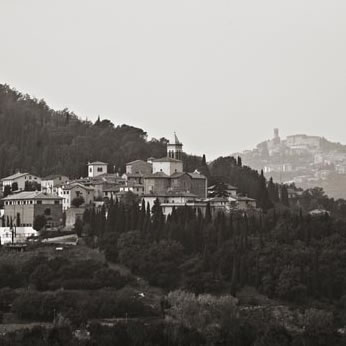 Imagery source
The conceptions of beauty
Convinced that a serene environment and beautiful sorroundings nurture human creativity and develop a community in which people who work there share its values, Brunello Cucinelli turned the 14th century village of Solomeo into the headquarters of its Humanistic Company.
Solomeo renovations by the Cucinelli family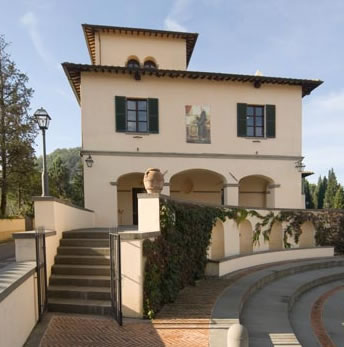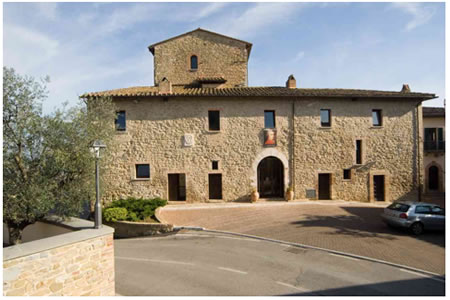 Imagery source for the above
The medieval fortress with wood beams, stone fireplaces, murals and brick floors is home to his offices and laboratories, while the old farmer's house has been turned into a company cafeteria where the best Umbrian dishes are prepared.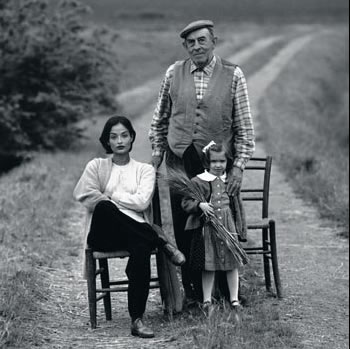 Profound harmony reigns here because, as Brunello says, "the people who work here, regardless of their job, participate in the life of the company: each person knows that his work is an indispensable element for common growth. "Our Integral Quality is the result of the quality within each person". Combining old and new, corporate objectives and people's needs is the secret to a company whose innovativeness is admired by many and is a case history in modern economy studied by prestigious universities.

The sense of ethics
"A day will come when philosophers will be needed to rule the world. I've always been fascinated by Socrates' dream. A humanistic company, ethics and production…It become increasingly harder for me to abandon an interpretation of labor and human action that was not founded upon a positive outlook and trust in the future."
Today it is apparent that international politics, great monotheistic religions and philosophical thinking confirm a need for a return to Ethics in every activity. In fact, the new economic approach aims at employee development and valorization as a way to improve a company and to give it a sense that is not limited to mere profit. It is what Brunello Cucinelli calls the "Supreme Good."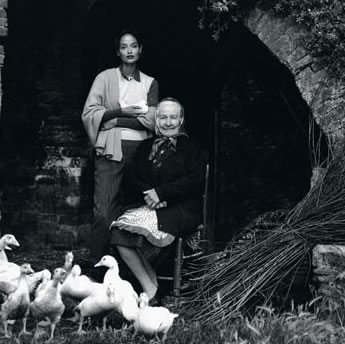 Imagery source
He is therefore an innovator or, more concretely, a businessman who successfully anticipated a global trend. In the Humanistic Company of Solomeo, employees pursue the same objective, but one mainly senses a scale of non-material values which are considered a part of the entire company. The company follows its own ethical code: inside, through interpersonal relations, and outside as a well, it always places people first. Thus, each person is responsible for his or her job; there is no need for hairsplitting methods and no one's individualism must be penalized. Freedom is encouraged and, as Brunello Cucinelli observes: "It creates a united group where each person has a specific job to do for the good of all."
The Supreme Good
"Work, which is considered an expression of a person's value, also becomes a part of one's spirituality and achieves the higher aim of the Supreme Good" Brunello Cucinelli loves to remind us. Cucinelli, who was born and raised in Umbria, grew up with a Franciscan philosophy, and he adopted the message of the Poor Saint from Assisi: to apply goodness, the highest aim, to everything one does.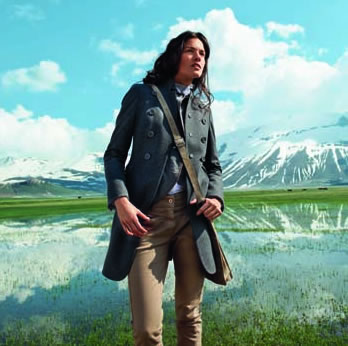 Imagery source
But how can this be compatible with a pioneering capitalist company? "Profit-making is inherent in business", says Cucinelli, "but it is not everything for me. I would not to live in a world where everything sterilely leads to mere profit. Money has value only when it is spent to improve the life and development of humans, and this is our aim."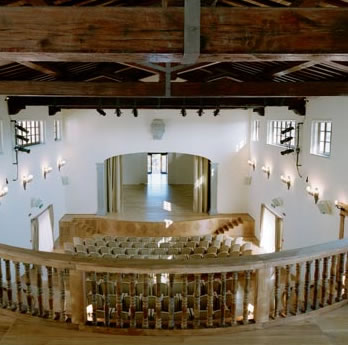 Imagery source
As a result of this profound conviction, a substantial portion of the profits is reinvested in the company, and part is used to renovate and improve the village. A new cultural center called "The arts Forum" has been created. This complex, the church and the main square (where concerts and events are held) are what Brunello Cucinelli means when he speaks of the elements and structures that improve people's lives.
And everyone has their own key to the factory. They can come and go as they please.
That idea of creating place, building a place in which to dream out a vision of environment of profound reclamation to the spirit of the past, remade anew. As Mr. Cucinelli tells it, "1985. Space was already scarce, and we had to find a new, bigger place. Our search was not easy or brief.
One evening, as I was returning home, I glanced at the gently rolling hills of Solomeo, with its lush green woods, the village, the castle, old Villa Antinori. Solomeo was the hometown of my fiancée Federica, and I was quite familiar with it. But it looked different to me that evening: it seemed I was seeing it for the very first time. I had the feeling that what I saw before me was the place that I had sought for so long.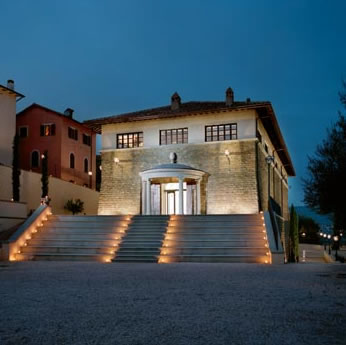 Imagery source
That hill, with its old presence, almost has now become reality. Buying that property meant convincing the old owner that my love for the ancient village was just as strong as his, and that those walls worn by time would have been restored and cared for with the respectful love that must be paid to things that belong to our past. Thus, it was my personal pledge and a dream of a lifetime: to use my company to restore the lymph that gave file to Solomeo and allowed it to grow over the centuries.
(A note on Solomeo: developed between the end of the 12th century and the first half of the 13th century, was built upon the site of a farming hamlet called Villa Solomey, which served as a base for the men who were reclaiming the land in the valley below. It was close to the road that in the Middle Ages, and probably in the days of the Roman Empire as well, linked Perugia with Castiglion del Lago and Chiusi. In 1361 the hamlet of Villa Solomey consisted of a palazzo, a casamentum, twelve domus, two houses and Saint Bartholomew's Church. In the spring of 1391, the people of the hamlet decided to erect a fortress, and Meo Iohannis Cole, the owner of the largest palazzo, sponsored construction of the actual castle.)
The project for the restoration and functional recovery of Solomeo was similar to the awakening of a sleeping genie. It is not easy to breathe new life into an old environment, because one runs the risk of making its enchanting charm vanish forever. And we found the right key in the simplicity of our oldest value: Humanity. People still knowledgeable in artisan traditions and skilled in the techniques of their ancestors set to work with a love for their Umbrian land.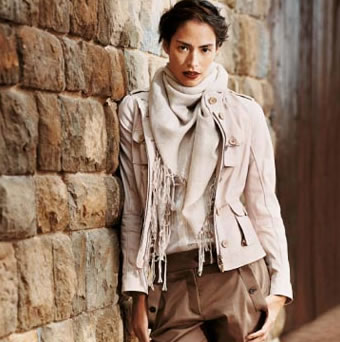 Imagery source
The development of the brand, focusing on the specialization of cashmere.
Notes from Brunello Cucinelli, "When I decided to set off on the fascinating adventure of knitwear back in 1978, more than 3000 persons were working in this field in Perugia, which is one of the capital of this particular industry. I found financing for 500 thousand lire (US$ 230) and a laboratory that produced five sweaters for the sample collection, including one made of cashmere. Sales immediately flourished, especially on the German market. The business grew and soon the time had come to make a fundamental decision: should we remain one of the good companies in the area, or, in agreement with the ideas of American economist Theodore Lewitt, which fascinated me and encouraged me to enter this business in the first place, attempt a leap of quality, specializing in the only product that could make us very best? I chose cashmere because it is extremely specialized: in fact of the entire fleece only the fur in a very limited area of the animal's throat is used. Then came the moment of innovation: to "desecrate" and update cashmere, to pass from classic tradition to modern fashion by dyeing it in all the colors of the rainbow and turning it into something worn by women as well."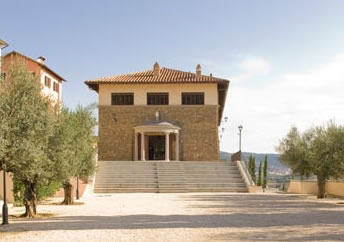 Imagery source
The Forum of Arts Foundation
The crowning achievement of an ancient desire, a historic intuition that started as an idea and, thanks to Brunello Cucinelli, finally became a reality: this recently completed, far-reaching project reflects the personality and courageous dreams of a modern-day Maecenas that appears to have stepped out of the pages of history, but who is actually a reality of our times.
The Forum of the Arts in Solomeo is a system made up by various symbolically and physically correlated elements. The project was inspired by the humanistic values made timeless by classic culture, from great thinkers such as Leon Battista Alberti, Palladium and Sebastiano Serlio to the teachings of Vitruvius.
As a whole, the complex represents a centre of friendship and culture, a replica of the Roman interpretation of earlier Greek models. And like those age-old examples, it has one simple objective: to bring men together and restore their human quality in the presence of nature.
An interview with Italtrade.com
"Why did you decide to focus exclusively on the most precious of wools?
How did you start out?"
"Here in Umbria we live and breathe knitwear. During the Seventies, Luisa Spagnoli, who was from Perugia, had over 3 thousand people working for her from home. My mother also worked for Luisa Spagnoli. And sometimes I helped her. I am anything but a spoilt rich kid. Until I was sixteen I worked on the land. Then my father decided to take a job in a cement-making factory, and became an ordinary factory worker. He regretted this later. And we left Castel Rigone and went and lived on the outskirts of Perugia. To help support the family, my mother began working for Luisa Spagnoli."
Cashmere?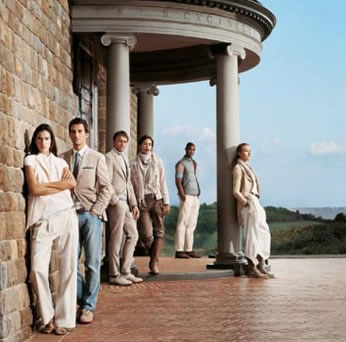 Imagery source
"I was just a good-for-nothing ex-rebel in the late '60s. Then I had an idea: if Benetton made millions of women's jumpers in ordinary coloured wool, I would do the same, but in cashmere. I was and still am convinced that the future will be based on quality, the highest quality. In 1979 I began working and started what has since become my company. For four years I worked on my own. I did everything from making the jumpers on the machine to packaging them through night. I sold practically everything I produced to Alto Adige. Why, you may ask? Because they were the only people who paid in cash within 30 days. Then I began to export to Germany. This was the real turning point, because back then banks would help finance foreign orders, and this made it easier to make a few small investments and take on my first employees".
Ethics?
"They are vital! Towards the end of the Eighties, there was the eruption of Yuppyism and along with it the idea that profits are everything, that you need be successful on the Stock Exchange at any cost, even if that means treating your employees badly and not caring about quality and customers. I thought differently. Rather than looking to American super-managers, my models were Socrates, Seneca, Saint Benedict and Saint Francis. I wanted to maintain a relationship with people. If I make something, if I set up a business, I do it with the aim of improving the quality of life. Man doesn't own the Earth, he is only its caretaker. It doesn't make sense to chase after enormous short-term profits. Because everything passes, but the best things are those that one can savour over time."
"What difference is there between working for Cucinelli or for one of the other large textile companies?"
"Everyone who works for me has a key to the premises. I mean that they have the keys, they come and go when they want and no one has to clock in. And they work as if they were at home. In fact, they actually work inside houses, those of the medieval hamlet at Solomeo on the road leading to Lake Trasimeno, where our centre of operations is situated. It was a beautiful place that had been completely abandoned. In 1987, with my first earnings, I bought a small part: the remains of an old castle for very little money. I bought the last part a few years ago and naturally I had to pay much more. I restored everything, but didn't modernize it. I left everything as it was: the eleven houses divided into small apartments, the church, the castle. And this is where we work, surrounded by eight centuries of history".
"The 'Cucinelli model' is problem-free?"
"There are problems, like in any business. But when this company dies, and it will certainly die because that's the way things go, there will be people who will say that it was the fault of the model I have followed. But that is not so. Companies don't die because their business model is flawed. No, they die when they stop wanting to improve, or stop being aware of the needs of their customers or don't sell their products. Running a business is actually very simple."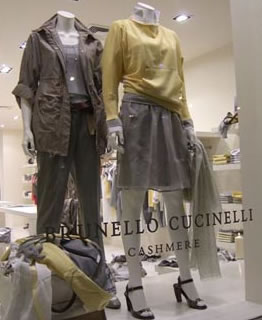 Speaking of presence, in the context of place-making, and retail, some international references to Cucinelli retail design.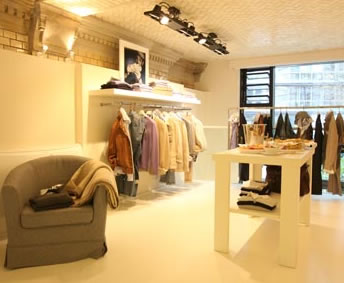 Quietly understated.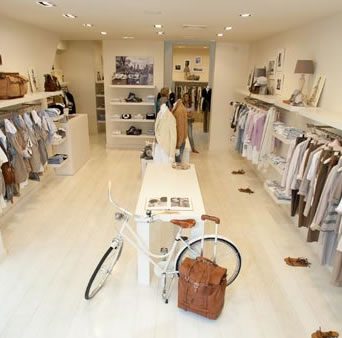 Like everything else that the brand stands for. And that the man brings to mind, to the moment, to the notion of attention.
tsg
….
Exploring the human brand:
https://www.girvin.com/subsites/humanbrands/
the reels: http://www.youtube.com/user/GIRVIN888
girvin blogs:
https://www.girvin.com/blog
https://tim.girvin.com/index.php
girvin profiles and communities:
TED: http://www.ted.com/index.php/profiles/view/id/825
Behance: http://www.behance.net/GIRVIN-Branding
Flickr: http://www.flickr.com/photos/tgirvin/
Google: http://www.google.com/profiles/timgirvin
LinkedIn: http://www.linkedin.com/in/timgirvin
Facebook: http://www.facebook.com/people/Tim-Girvin/644114347
Facebook Page: http://www.facebook.com/pages/Seattle-WA/GIRVIN/91069489624
Twitter: http://twitter.com/tgirvin