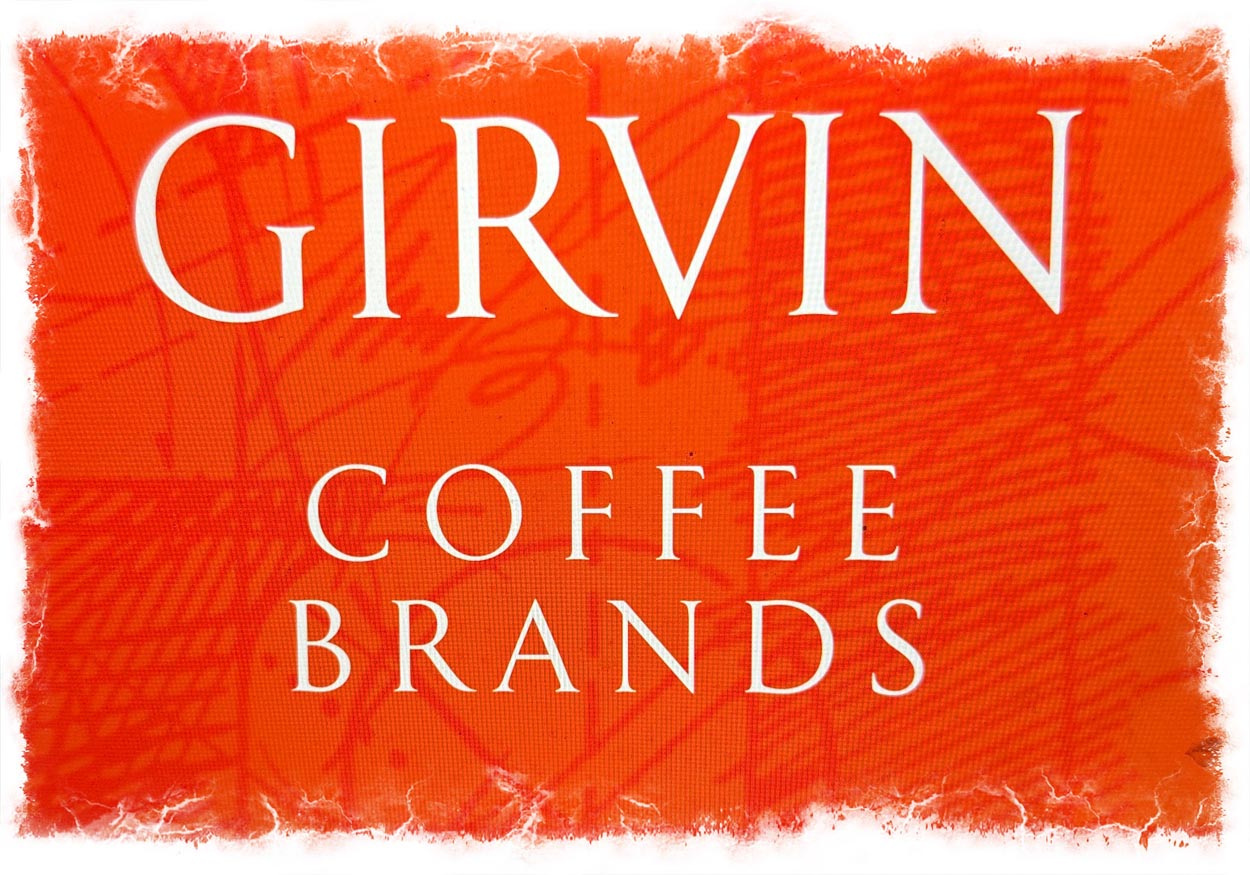 With our coming into 50 years of continuous involvement in brand strategy and integrated design—
and as coffee connoisseurs—we've savored this brewed beverage all over the world,
from Seattle to NYC—Maui too, LA to Vancouver, Java and Bali.
We've studied coffee culture in Asia–Seoul, Bangkok, Beijing, Hong Kong, Jakarta, Singapore, Ulaan Baatar, and Tokyo. And we've sampled darker brews in Peru, North Africa, Spain, Italy and France—and the blackest grounds of Turkey.
Traveling, tasting, exploring presentation and experience characteristics, you learn more about the international legacies of brewing and service. And that could come back to find expression in other tiers of coffee branding.
Probably our first exposure to the power of an integrated brand was listening to Howard Schultz's first presentation, streetside, in the launch of Starbucks in the 80s. Some might recall the Il Giornale conception and the integration of Starbucks into a new modeling of a café business modeling—which everyone is likely very familiar with;
story's here, for your review.
Stewart Brothers Coffee + Seattle's Best Coffee Brand Legacies
We didn't work on Starbucks at that time, but rather connected with James Stewart, a Seattle Center Food Court and Pier 70 Ice Cream entrepreneur [The Wet Whisker] who was developing a coffee bean roastery on Whidbey, then Vashon Island—in his own studies of the bean-roasting art, he began expand his sales on the proposition of Stewart Brothers Coffee—sans Wet Whisker.
This arrayed a particular approach to branding, a distinctly defined palette—a classic red, as a discrete brand presence at shelf, at retail built environments. Working with renowned architect Jim Olson—also a client, and later Tom Kundig, we worked on shop designs to support an expansion of cafés—these appeared in the Pike Place Market, the SeaTac Airport, and downtown.
We worked on all of them.
For example—to the nature of shop experience strategy—our Pike Place collaboration spoke of brightly colored tiles, galvanized and perforated steel, which we used in signage as well as brand storytelling,
bean detail placards—back then—all silkscreened art.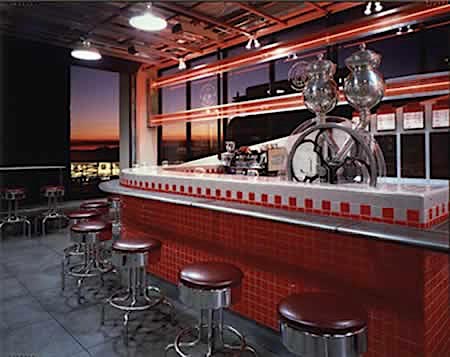 These brand elements were built employing a font system that we built around the brand, utilizing customized GIRVIN fonts—a special titling type face that we created for the brand, founded on
lapidary letter-cutting by Eric Gill in the mid-20th century.
The idea of a monogram became an ongoing emblem displayed
on trucks, shop signing, vintage vehicles and merchandising.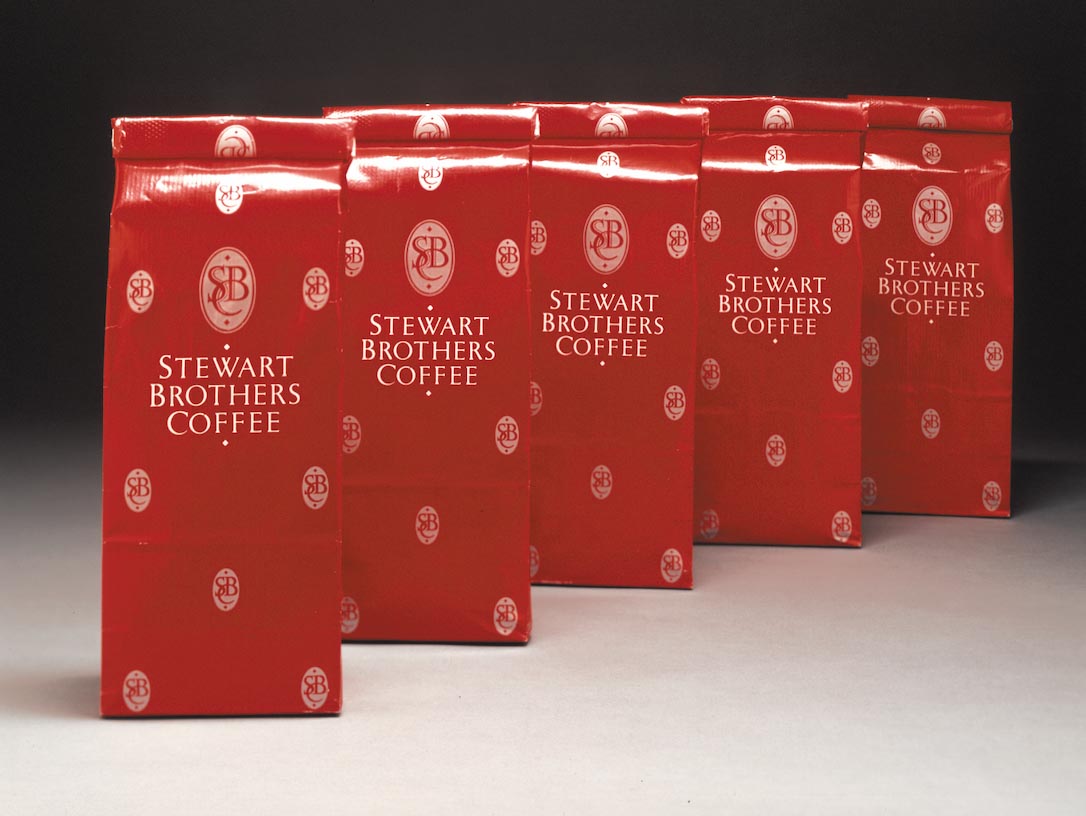 We pushed the boundaries on this downtown location shown below, playing—thoroughly—on the metaphor of the bean. An elliptical, bean-like arc of abraded steel—extending interiorly and externally, with the monogram set on the sublate of neon scribbling—perhaps a coffee jag, you might say. The steel and tile brand language is retained, as well as a specialized coffee grounds wall treatment—a mottled green and brown palette, sponge applied to a polished, encaustic-type wall application. The interior signage, also steel and neon.
As some might recall, Stewart Brothers had a legal conflict with a Chicago group, also called Stewart Brothers—from here, the brand evolved, as shown above, to another name, which we renamed as Seattle's Best Coffee—a new SBC. At a charitable event, I spoke to Howard Schultz about working on Starbucks—he said, "we can't work with you, you're working with Jimmy Stewart on SBC."
Amusingly, that transitioning continued to grow, and be purchased—by AFC Enterprises for a franchising program, then Starbucks bought them, the brand moved on Focus Equity, and again, —and again, this year, acquired by Nestlé.
Dannon | Café, Product Development and Starbucks
Onwards. Working with Dannon, we worked with Dannon EVP Eric O'Toole looking at alignments between Dannon and Starbucks. That worked around the proposition of innovation of soft serve provision, as a shelf space addition,
as well as a corporate alignment between Dannon's Activa and Starbucks.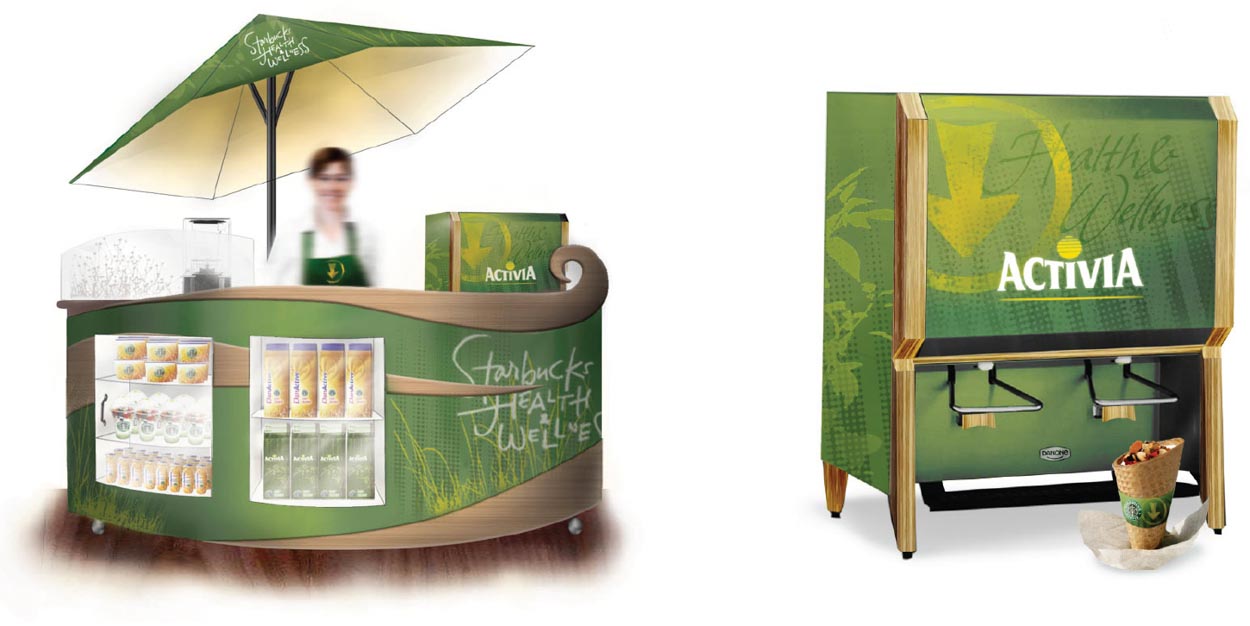 That included, as well, working with the strategic thinking of Miguel Leal, the potential of signatures between Dannon and Kind, in food amenities onsite or takeaway.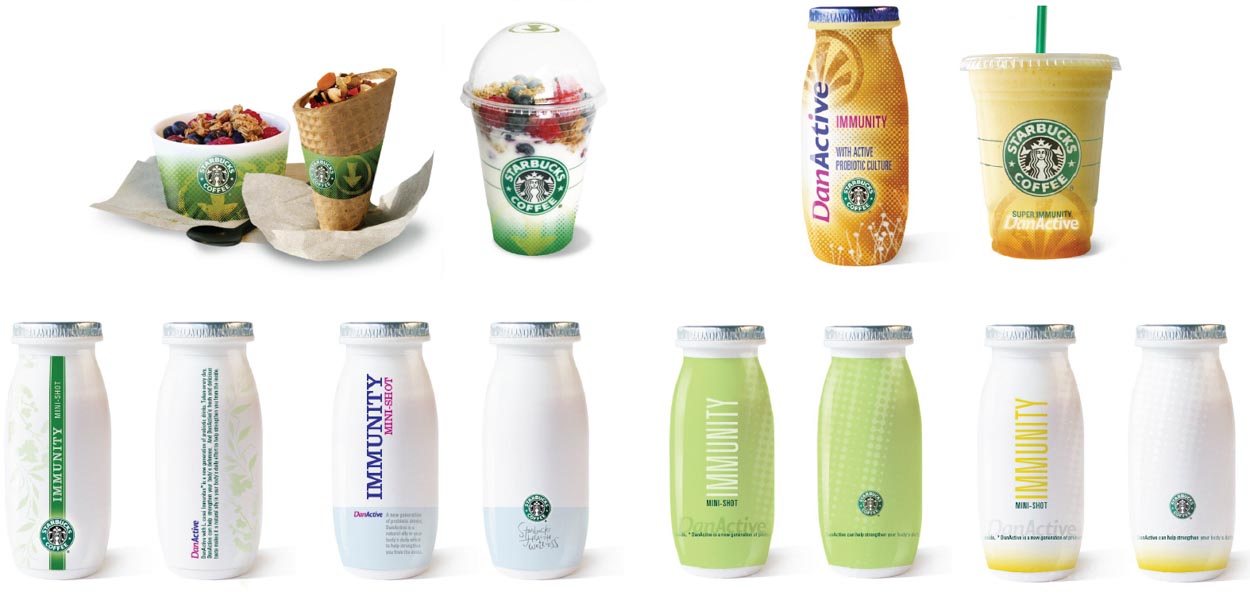 Those Starbucks retail alignments for Dannon led to another standalone innovation—a yogurt, and coffee, shop. Yogurt Culture, a brand we innovated with O'Toole and Leal, Midtown, south of Grand Central Terminal on Park.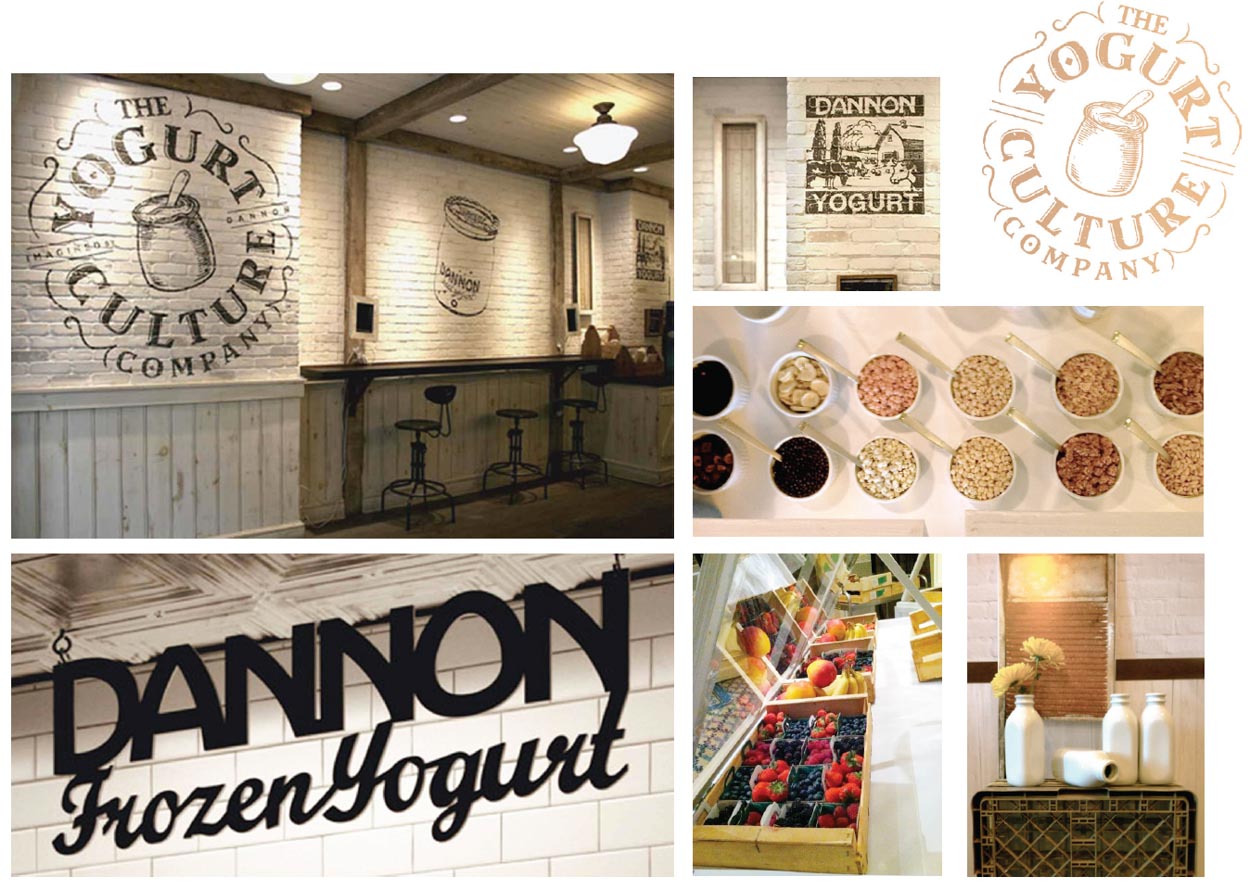 Wild Alchemy Café | Connecticut
To the notion of café-related brand development, the particulars of drink fueling,
we think of other expressions, brand innovations, like the healthful drink fuels of Wild Alchemy.
Energizing fuels—Connecticut.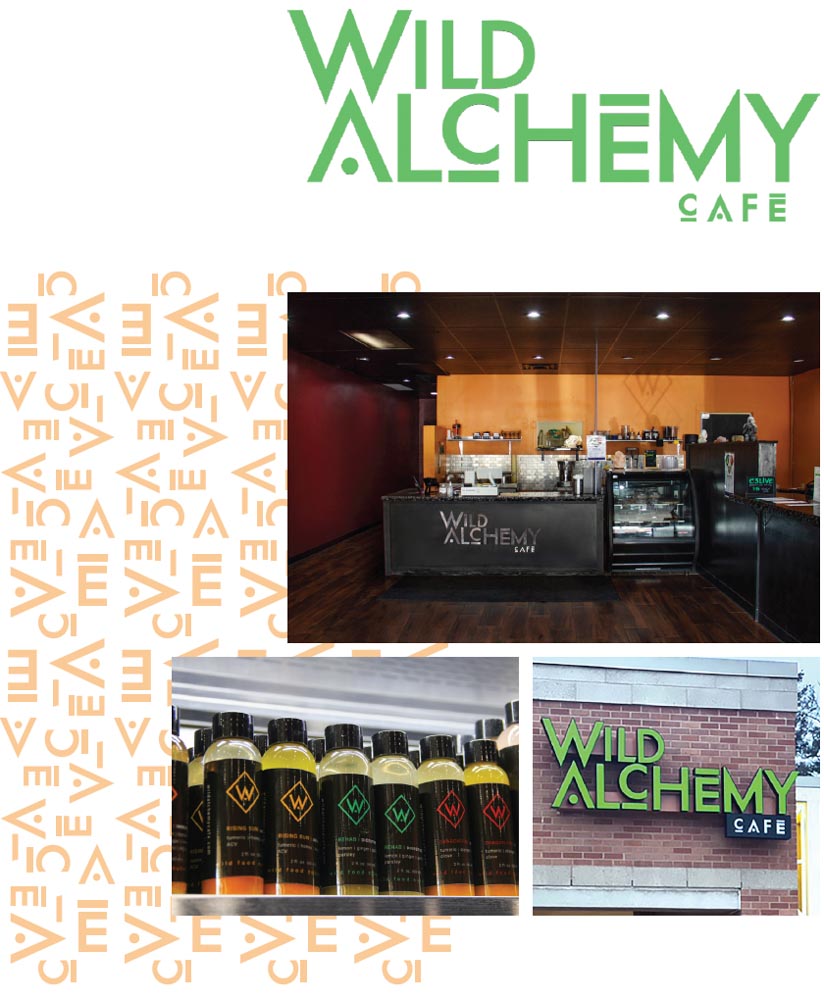 Nordstrom | Nationwide
We took the spirit of our coffee-related brand development into a couple of classic PNW entrepreneurial brands—retailers like Nordstrom. In one instance, a signage system for an early coffee-related [Nordstrom]
expression [not our logo below, our signage standards,]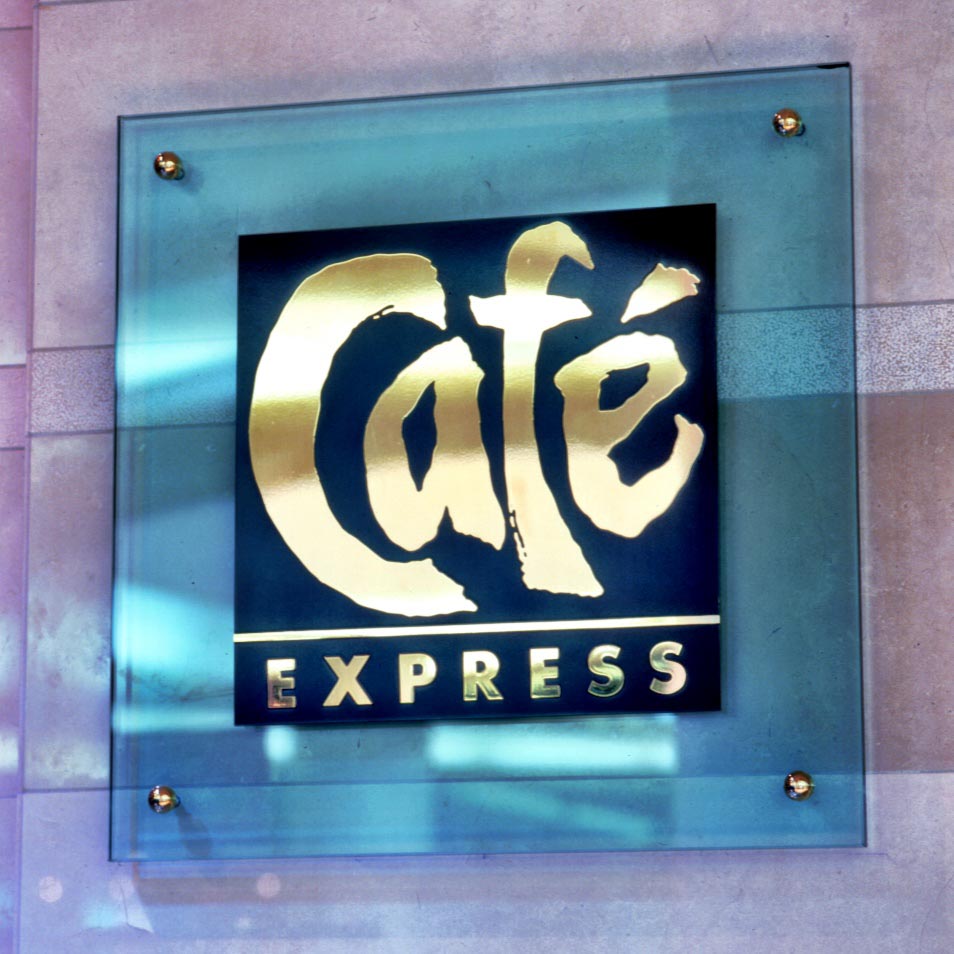 then a brand alignment between our identity system for Nordstrom and a Café nomenclature—conjoined in simple symmetry, signing and packaging, collateral and menus.
This is flipped in various configurations and degrees of emphasis—
simple and understated, restrained and disciplined.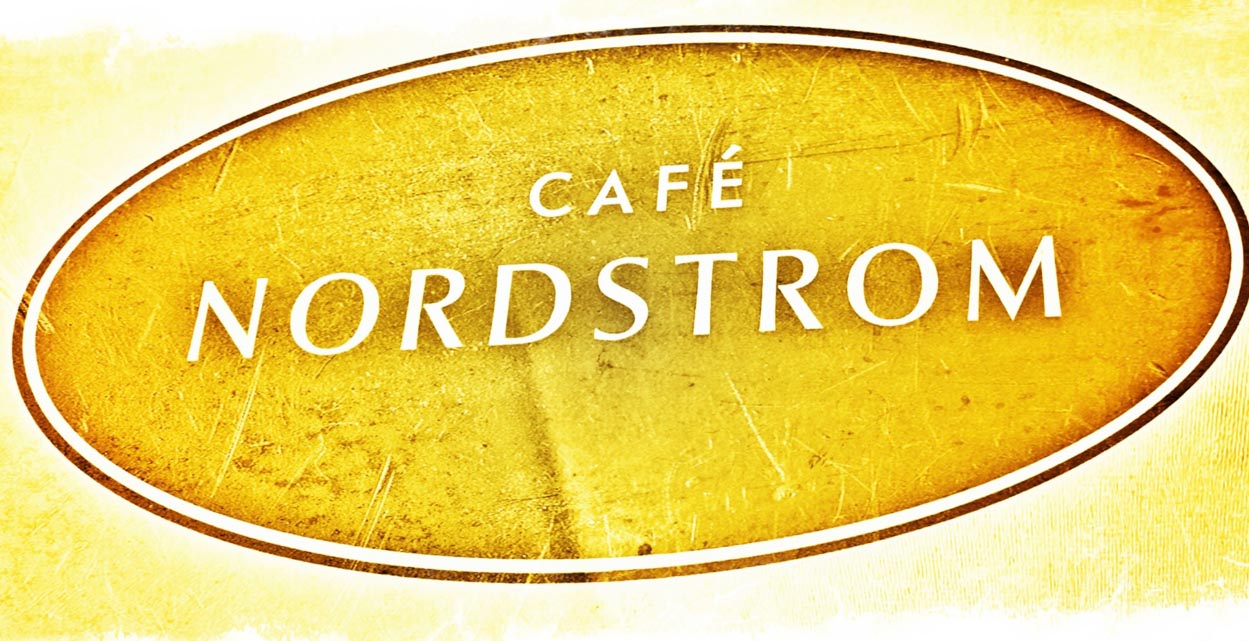 That brand design discipline applies,
to onsite retailing, coffee provisioning at the Café.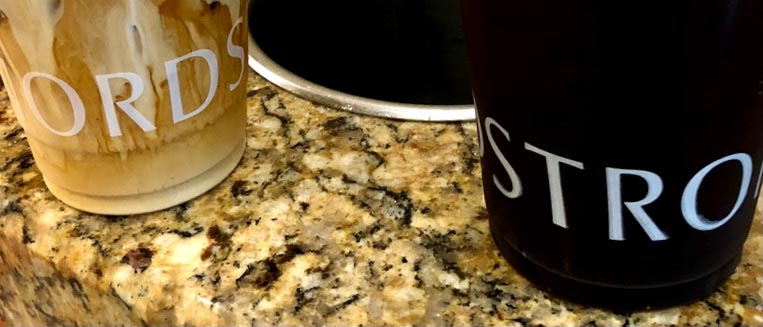 Dilettante Chocolates | Seattle
Thinking of coffee and European contexts of caffé e cioccolato, I spent some of my early years working for Dana Davenport, a descendant of legendary pastry chef Julius Franzen, the confectioner to
the 19th century Hapsburg Emperor, Franz Joseph I, even
celebrating his legacy in their "Hapsburg Roast Coffee."
Chocolate and coffee, of course have a molecular legacy—both offer stimulants, theobromine in chocolate and caffeine in coffee. Together, they're an energizing combination. In Italy, as well as Turkey, they're frequently offered together—buy an espresso, and you are served a little chocolate too.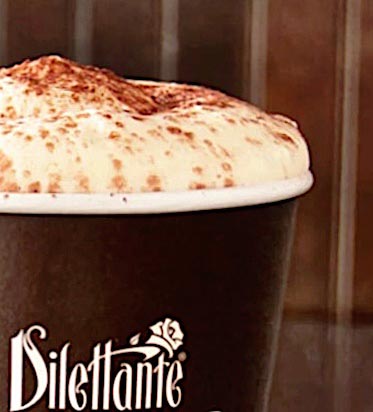 Besides the rose, there's the distinct logotype, which has undergone transitions over the decades—including the use, or placement scaling of the ubiquitous rose.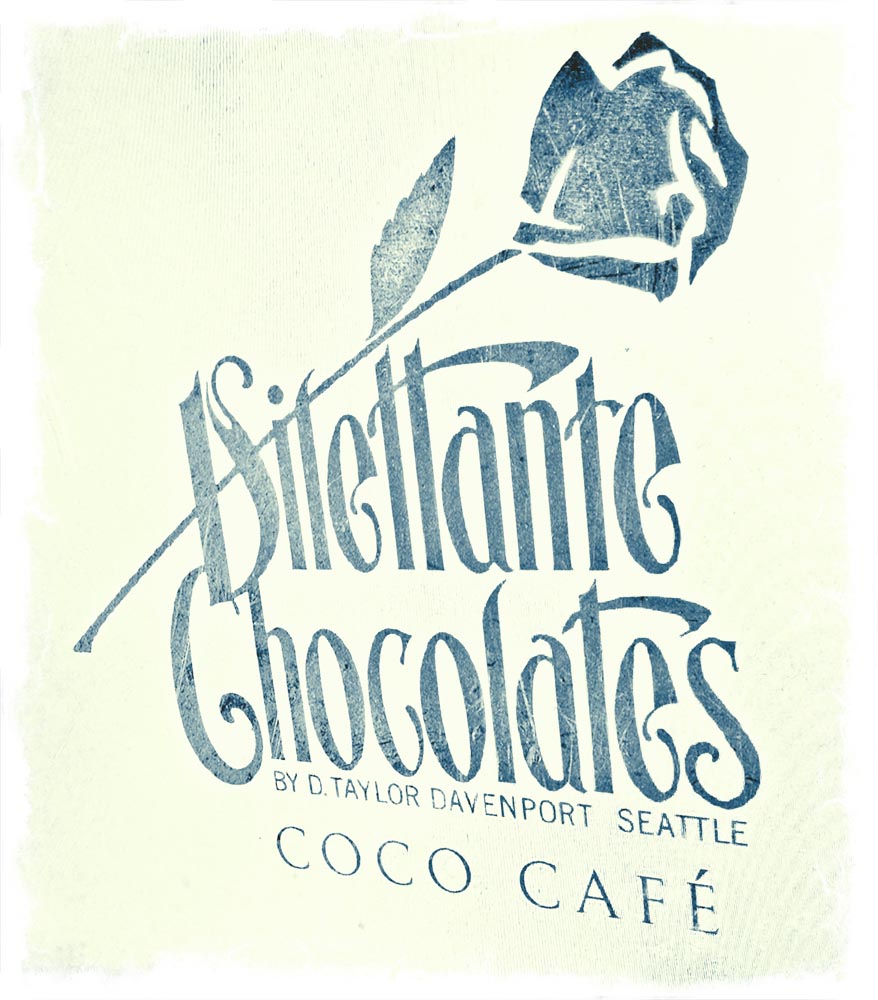 And concluding with a strictly chocolate regimen, there are
a couple additional stories and backgrounders.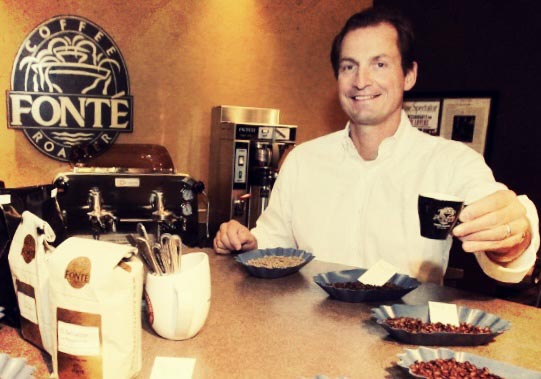 I worked with Founder and CEO Paul Odom on building the core logo typography and illustrative symbology for his retail brand program in his visioning of an upscale café in the PNW. That was, as noted, two parts—a customized GIRVIN font as a core message,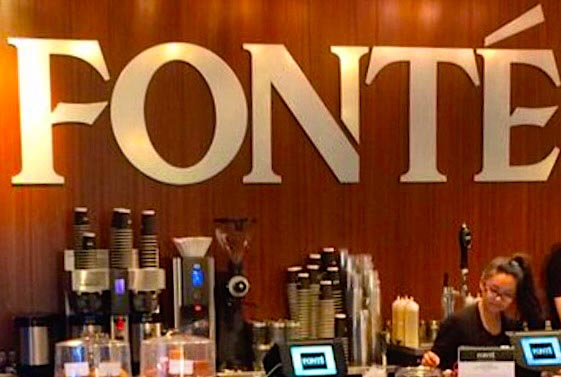 accompanied by a illustrative badge.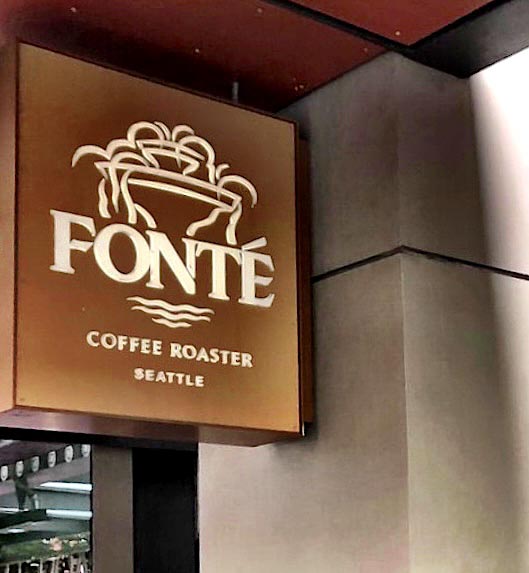 We celebrate and laud their continuing growth—congratulations to Paul and his team.
Still the journey, a recent development with an experienced marketing executive, Scott Snyder, CEO of Royal Aloha Franchise Company LLC, the ownership group of Bad Ass Coffee of Hawaii.
The core premise of brand celebrates aloha spirit, the convivial generosity of authentic Hawaiian culture—founded on the bad asses, literally, the donkeys, that hauled coffee beans from the highland coffee belts to the roastery below. Consistently-performing, hard-working animals that exemplify Royal Aloha's attitudes of commitment, passion and
consistency in performance and delivery of quality.
As a start-up team exercise at our offices in Seattle, we walked, as a group of collaborators, a GIRVIN strategic BrandQuest® to find the essential pillars of the brand—in spirit, soul, operational integrations of stance to visualizations and messaging, a core sensibility
of brand-aligned and disciplined interiors—the goal, a transferrable BrandCode®, a designed experience that works everywhere—all locations.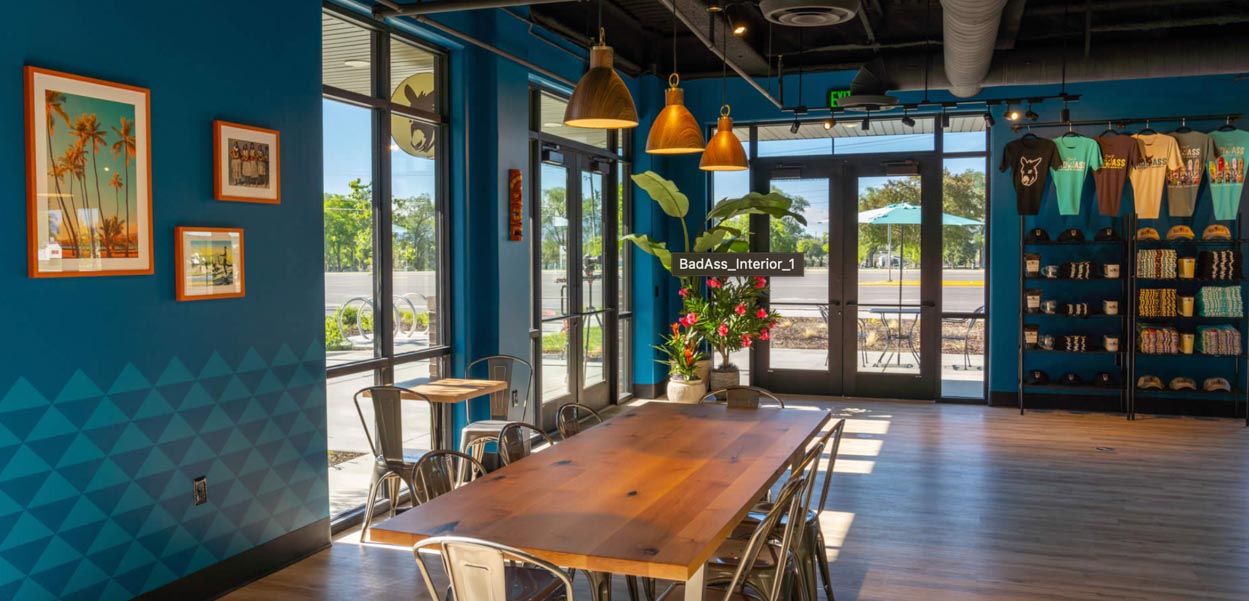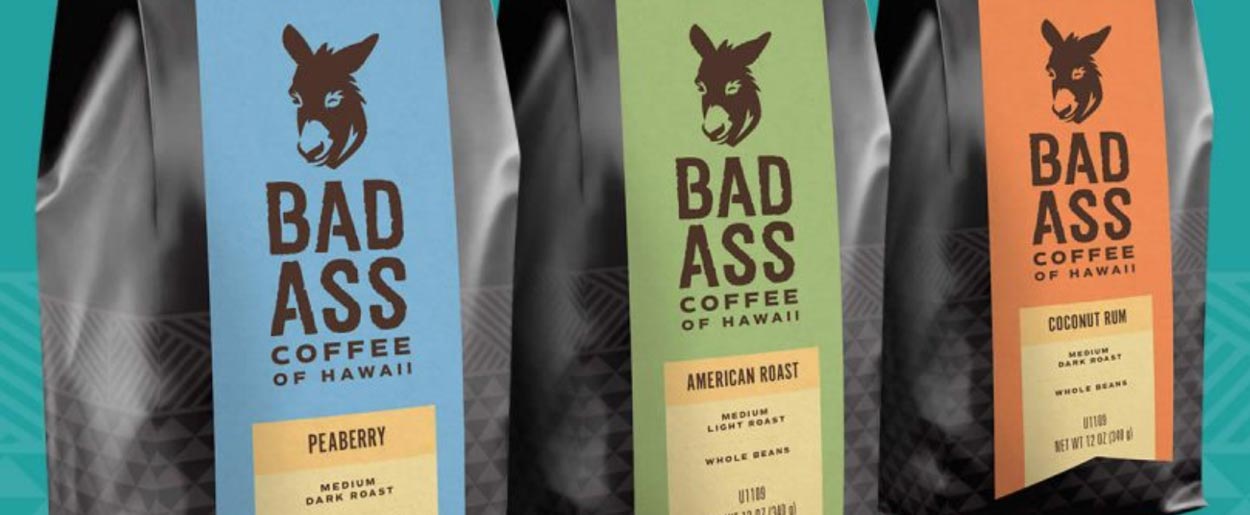 And what of the nature of the containment of coffee, unto that beverage?
Our team, during our earlier GIRVIN Industrial Design phase designed the number one, most popular container in Starbucks merchandising design history—as a design strategist for Rob Harris's Pacific Markets International—a transnational product development and manufacturing group that we've consulted for in team retreats, all staff presentations, workshops, BrandQuest® Summits and brand design systems for new product innovations.
Here's Lucy.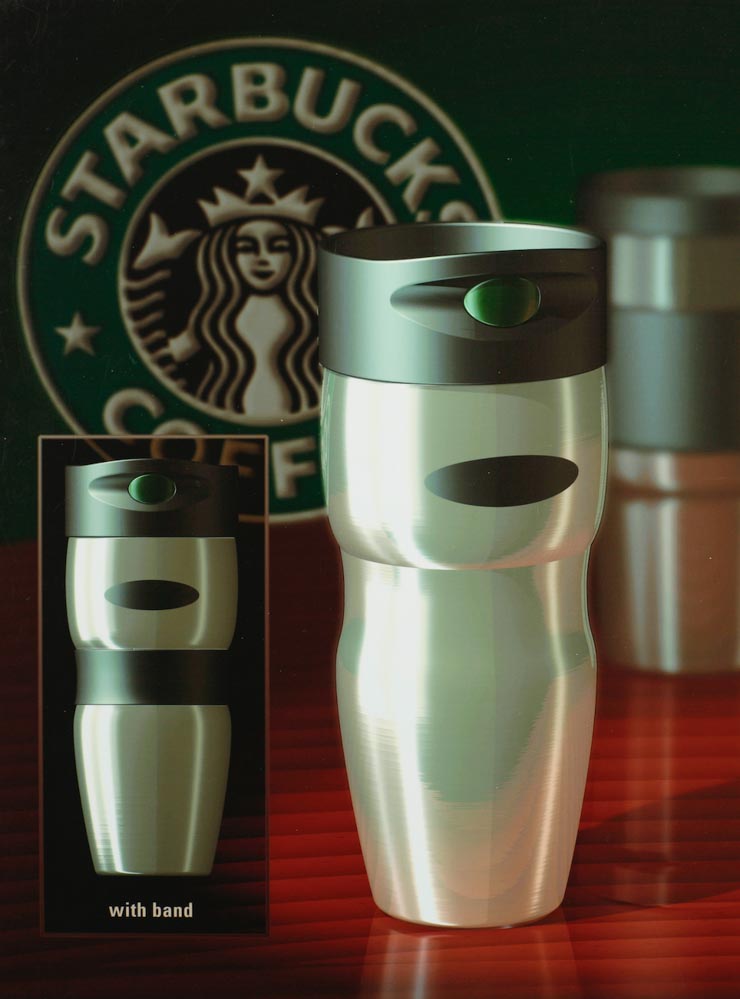 Later our work with Starbucks wrapped around some team summits and keynotes, all design staff, as well as collaborations with Arthur Rubinfeld, former Chief Creative Officer and President of Global Innovation at Starbucks—our blog updates and commentary on Starbucks were shared with many executives and design leadership at Starbucks Global.
Coffee
We like it.
Tim Girvin | Osean
Projects in strategy | story | naming | messaging | print |
identity | built environments | packaging |
social media | websites | interactive.
––––––––––––––––––––
GIRVIN | Strategic Brands
digital | built environments by Osean | theatrical branding
waves | art | talismanika™