The Journey of Design, Place-making
and Creative Environments:
Archetypal Signage
As any designer knows, to brand and experience design, there is a link between storytelling and sequence.
A story has an ingress — a start, a mid-point, a moment of spectacle, of quietude and holistic contemplation and awareness — conclusion and egress.
From the start, you see something, the story begins, and your journey into that place will be a procession of experiences, touch points, investigations and convictions.
It works because you're convinced that
it's true, or
it falters as a slackened telling —
it's inauthentic.
We're always looking for soul, truth, journey — how then to apply that sense of soul fullness in our own environment?
What's our truth?
When I was in college, I was influenced by Daisetz Suzuki's, Zen and Japanese Culture.
What I learned then, and continue to embrace, is the idea that a craft can cross planes of thinking, in the landscape of our mentality, and used to different effect — especially in experience design.
What struck me was an attitude that crosses in multiplicity — it goes from idea to implementation. A poem, a piece of pottery, a flower arrangement, the preparation of food, a pillar, a calligraphic phrasing in the temple compound — at the entry, wall treatments, coverings, floors and coloration.
That — back then, the flowering of Zen in Japan —
one might have an idea, a point of inspiration, a belief that could cross from a drawing, to poetry, to martial arts, archery, swordplay and the ineffable bushido of Samurai, to music, to art — paintings, wall treatments and scrolls, installations, gardens, principles of meditation.
I take that to heart.
In my journey, I admire that idea of the drawn energy of calligraphy, outlandishly-scaled brushes and the feverishly creative risk of drawing on old growth wood, our hand-selected, precisely-prepared timber, to be used as iconic signs, marks, tables and stand-up objects, in our new environment.
Notes:
Energy and the principle of Ch'i.
Zen.
These are power strokes — symbolic and archetypal —
strokes that emulate key principles of design —
the thread of the single line,
the whorl of journey,
the encircling world —
and the X-compass point of the crossroads,
the square of earth.
As some of you know, also during my college years [70s,]
I was into making talismans and amulets out of writing and drawings to give to friends, family and travelers.
Started then,
never stopped.
Our last installation at GIRVIN on Stewart, was one massive talisman, a centering point, an enso.
We'll take that with us.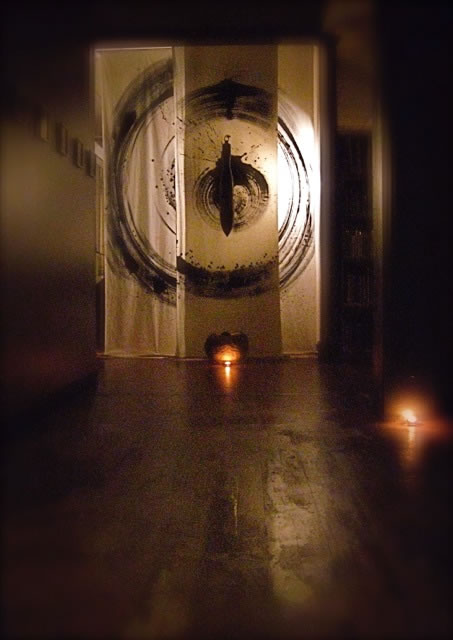 Talismans have a character of admixture — symbols, words, alphabets, combined to achieve something: protection, warning, health, safe travel. For me, these have been drawn on paper, painted or scribed on stone, were placed and folded in wallets, purses, sachets, and nailed to doors, pathways, kept in pockets, and sealed in wax.
Now, decades later, I still think about the idea of the drawn word as having its own transmutative magical power.
You draw something, it draws something out.
And it might draw something out of you.
You dream — and draw a "brand," — create a new name, and it goes from being one thing, to another.
As a signer of signs, you've changed it.
As a namer, you have brought it to a new life.
And, as a designer, invariably — your soulful presence is immutably mixed up in that transitioning almagam.
Some believe, others do not.
And, in everything, it's what you believe.
You, yourself, what do you believe?
And belief, inherently, is what you love.
And what you believe shall be what you hold closest to heart: believe, the word belief,
etymologically, comes
back to love.
We're moving
here.
Painting now,
the Novo team.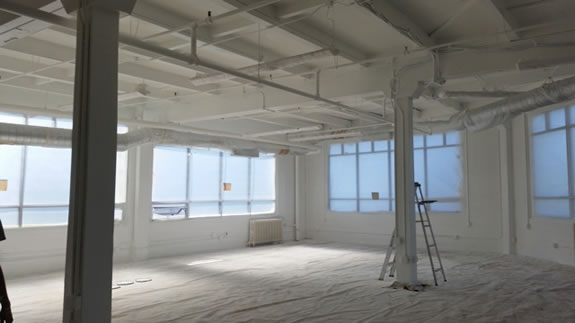 So I have drawn these for our new space – to be opening signing sigils, team tables and conference sites, gateways into working areas —
and herewith, below, on selected and prepared giant slabs of old growth wood — a calligraphic rendition of talismans —
that journey: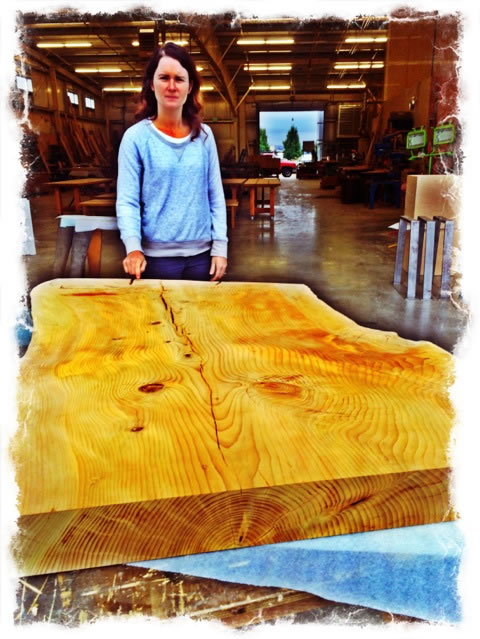 The circle:
wholeness,
emptiness,
heaven,
fullness
and
containment.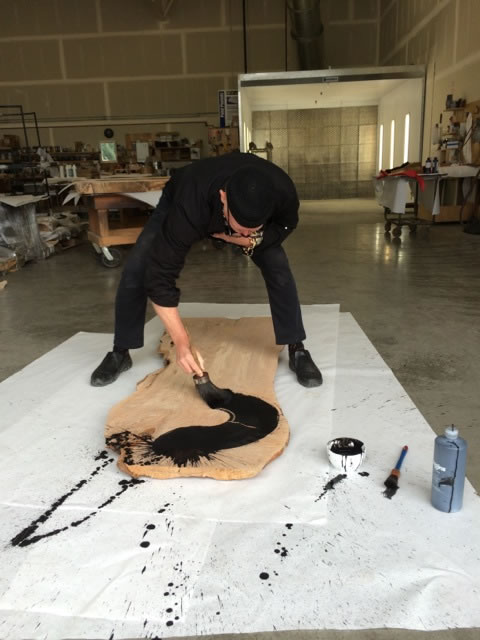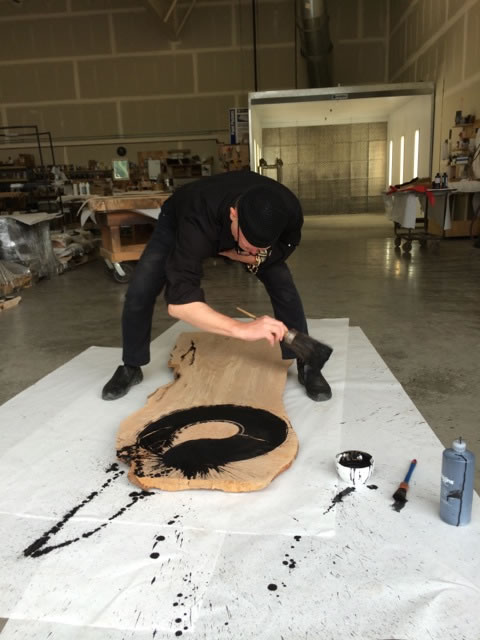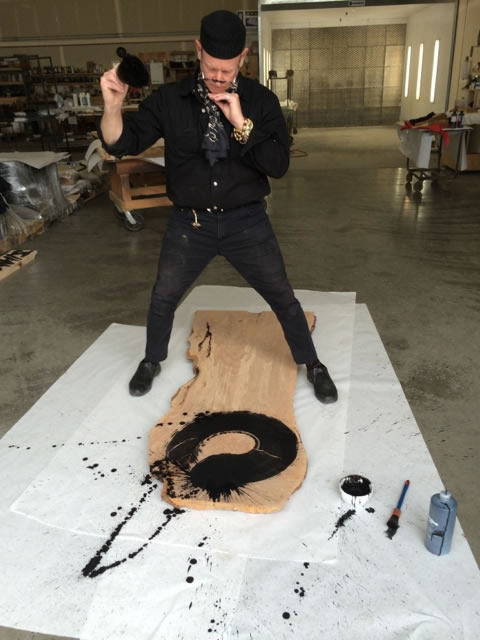 The X:
crossroads,
transformation,
transmutation,
magical nexus:

The Line:
direction,
stability,
strength,
the first stroke
of the Arabic alphabet: alif,
the Rune for Ice —
stasis, frozen:

The whorl:
amazement,
the labyrinth,
journey,
pathway,
unfolding: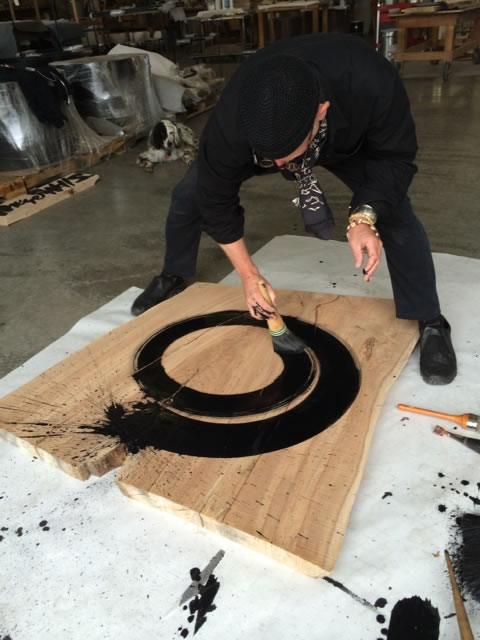 Jethro, our supervisor: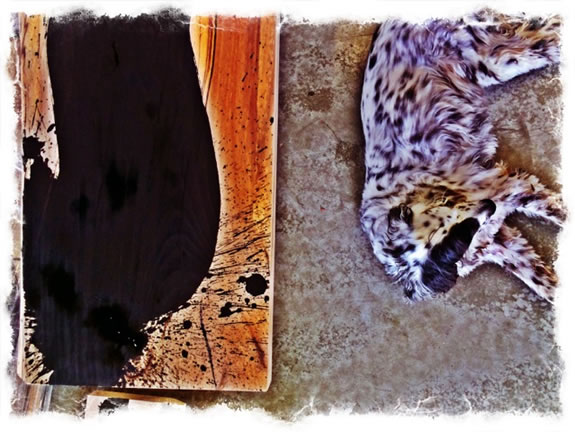 The serpent:
life force,
flow,
riverine,
serpentine,
exploration: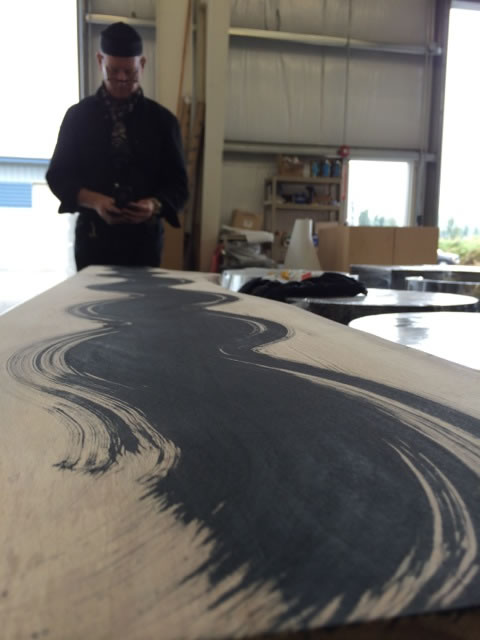 The Yard at MeyerWells, moving timber: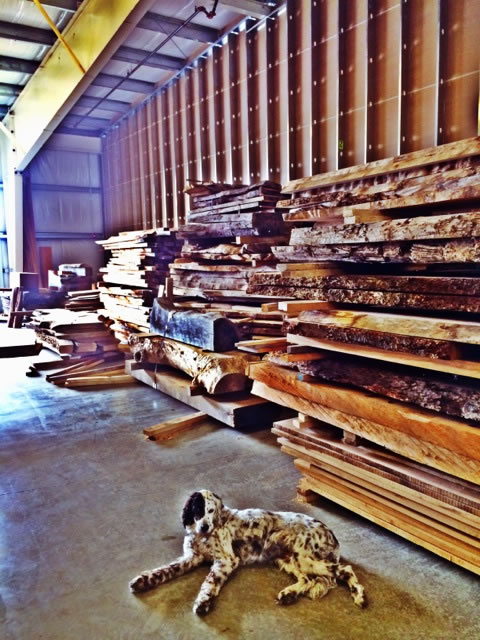 MeyerWells shot of the completed talismans:

Go back to where you've been,
and see what you, too, might find there.
Tim | Meyer Wells Green Tree Mill Timber warehouses
––––
Rethinking Beauty:
Brand Strategy & Visualization
Girvin BrandJourneys®
http://bit.ly/1sSgbOB