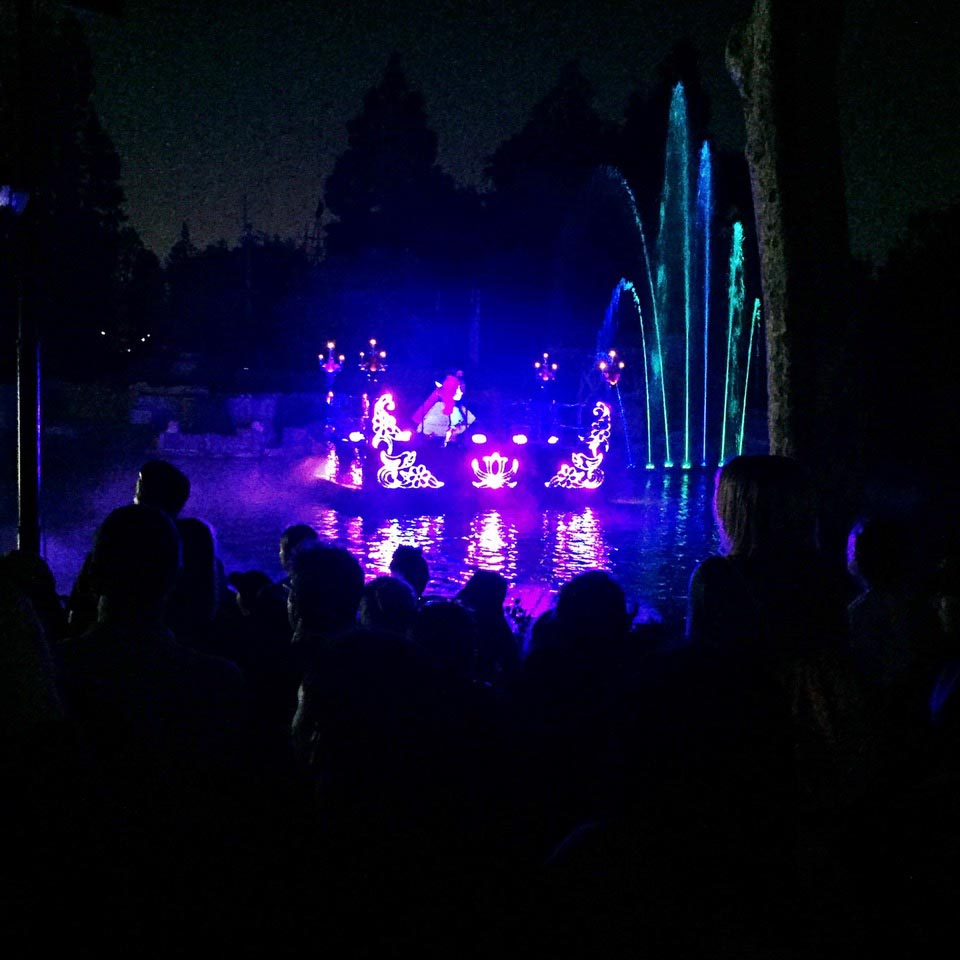 WORKING IMAGINATION | THE IMAGINEERS AT DISNEYLAND
In my history as a design leader, we worked around various propositions of entertainment at Disney—not only working on films, but Disneyland itself, in a string of calls from the Imagineering teams at Disney, Glendale, CA.
These were patent-related calls—new technology applications that Imagineering had produced—that required identity and branded expression. First, this ranged around proximate properties that were directly linked as Disney properties—the Fantasia floors at the D Hotel.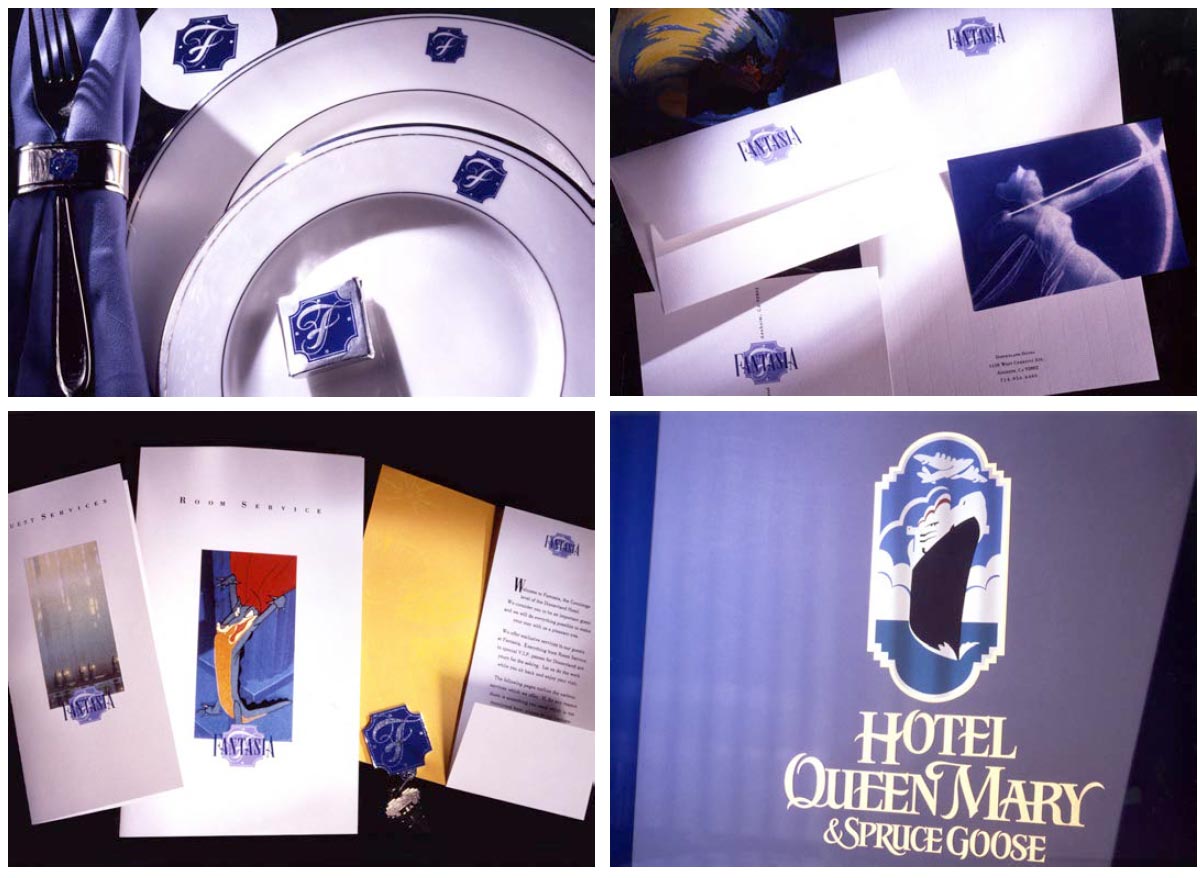 We started working on the park perimeter hotel, and that led to attributes of the Disneyland Hotel as a bridge to features inside the park.
For CEO Michael Eisner, for example, we worked around the proposition of learning the Disney way of innovative thinking, as in a Chautauqua-style storytelling sharing campus and educational environment. Eisner's Disney Institute—which, since that time, has evolved into a kind of Disney University, is now based at their Orlando Park. We designed a brand system visual language for educational materials, room and guest amenities, interior brand patterning and merchandising.
This relationship started GIRVIN on a Disney destination strategy learning experience, originally around placemaking entertainment that was built inside their newly patented technology. That had to do, largely, with inventions around water, a kind of hyper-mist related screen building capacity. First, experimental work at Fantasy Waters:
This water feature was built around motion-based water jets, illumination and music—simple, but an opening demonstration of another set of Disney Imagineering technology, which we worked with them on the naming criteria—back then, Disney had a particular fascination with, historically-relevant Fantasia-layered thematic thinking. That event sequencing found greater magnitude in Fantasmic, a much larger crowd-gathering event, with sound, mist, fountains, water movement, animation in a complex visual choreography which we branded for the Imagineers and Disney Parks.
Two recent elements resurfaced this story.
One, I was talking about our times with the Imagineers with some GIRVINists—the designing of complexly integrated placemaking tactics—and this LATimes story emerged on new Imagineering patents, also water-based and projection-related—which I've tracked here from the LATimes, authored by Hugo Martin, along with imagery from Allen J. Schaben.
An image from "Snow White and the Seven Dwarfs" is projected on spraying water in 2015 at Disney California Adventure's "World of Color: Celebrate!" Walt Disney Co. has been approved for a patent to project 3-D images on real-world objects, creating an immersive experience for individual guests. (Allen J. Schaben / Los Angeles Times)

BY HUGO MARTÍN STAFF WRITER
JAN. 7, 2022 5 AM PT

Walt Disney Co. has been approved for a patent to project moving 3-D images on real-world objects to interact with theme park visitors, making it easier to create interactive attractions throughout its theme parks.

The U.S. Patent Office approved the patent for Disney Enterprises last month for a technology described as a "Virtual World Simulator." Disney officials say they have no immediate plans to use the technology.

The Burbank media giant already uses 3-D projectors to cast moving images on sprays of water in the light shows dubbed "World of Color" at Disney California Adventure and "Fantasmic" in Disneyland as well as on buildings and rides during the nightly firework displays on Main Street USA.

The technology described in the patent would not be geared for large audiences but would instead track individual visitors around the parks and project images specifically for them on nearby objects, buildings and walls. Imagine walking by a wall and having Mickey Mouse appear to wave and dance in front of you.
The first reference also followed along a discussion around ride engineering and musical integration which was one of the signatures of the wildly imaginative flourish of Mary Blair, a Disney Imagineer—who has her own spectacular creative history in designing Disney, particularly her legacy at "It's A Small World," among other properties.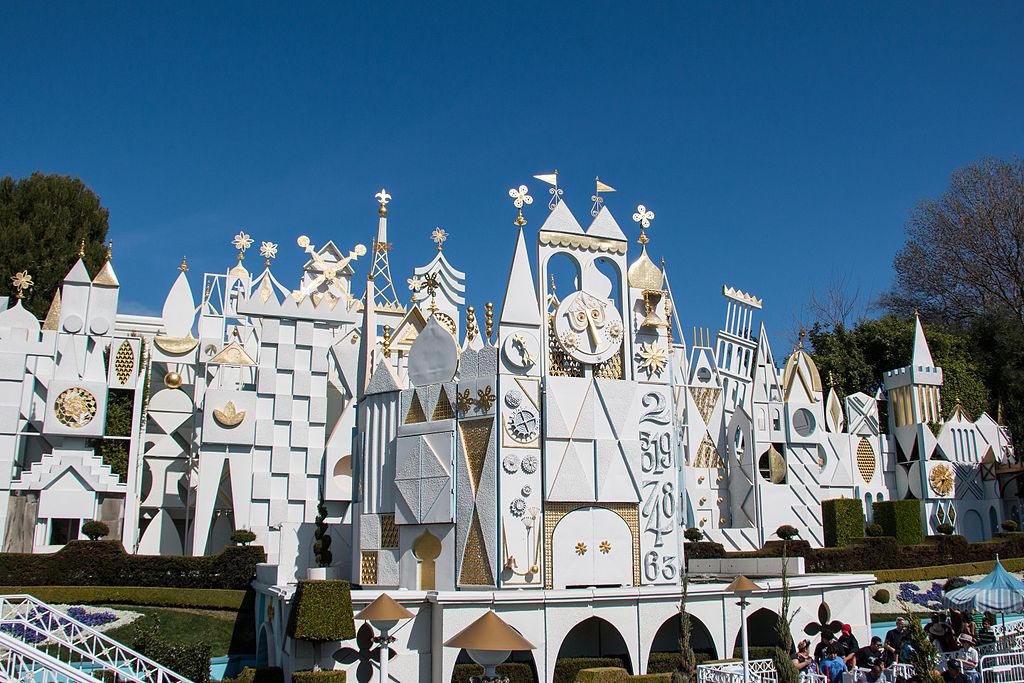 A clockmaker's complication of gears and timing mechanisms, along with a bobbing synchrony of a boat ride in the labyrinthine channeling of the journey. Commentary on Mary and her spectacular sense of contrastive color—
from the Designing Disney blog:
And expanding on hospitality entertainment design and marketing, the second reference is to another string of events that we designed for nearly a decade—which is now, this year, returning: Disneyland GradNite—also, just announced. We designed posters, invitations, clothing and merchandising, year after year. Now, continuing, 2022.
That string of efforts led to building-out a brand manual for Disney Stores, a packaging, signage and merchandising system and product development.
Finally, we built out a customized Disneyfont, designed for Disney Stores, for packaging, signing and indoor merchandising:
as well as working on films ranging from
The Black Cauldron,
and The Black Hole,
John Carter of Mars,
IronMan [a later Disney property]
to The Lady and The Tramp
and Raya.
Journey, onwards.
It all comes down to the quintessential harnessing of imagination—Disney, intriguingly, with all of its historical ups and downs, leadership challenges and Covid-related shut-downs—has come to represent one of the most dynamic creative engines in scope and legacy.
Tim Girvin | GIRVIN | OSEAN
The strategy of imagination, invention and innovation