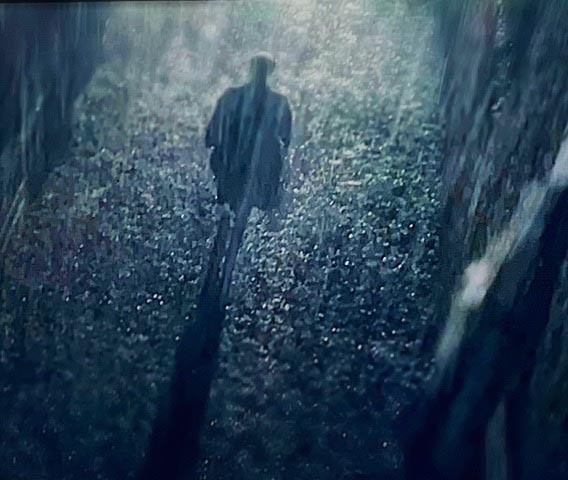 THE ORDER OF PATHWAYS AND THE TOUCH OF THE MEMORABLE
M A K E
A M A Z E M E N T.
As brand designers—as with any part of human creativity, "a making" or the construction of a visible object, the made art or the scribed breath of a poem—the point would be to answer this query: "what are you doing that is unforgettable?"
Which might come down to, or to expand towards—"what have you done today that is memorable?" That could be—and perhaps better still: "what did you do that you'll never forget, or better still, is there something that you've made that would be unforgettable to others?"
That's the point of spectacle, in the design of things—aside from the inherent foundation of utility and customer usefulness—that the experience of a place, or a designed "thing" would be unforgettable. As a designer with decades behind me, I ponder that question, what have I done that's memorable? That question might come to things that we'd created that, for us, would
be unforgettably powerful, personally entrancing.
But it's also that challenge point, where you were pushed to make something compellingly attractive, audience-building, like attracting people to a "talk," like this one, all handmade, one piece of art, for a talk on design for a group in Dallas Texas—I had to make something that was about me, my working history, for a group of luminary designers and agency leaders in that exemplary market. There's risk in the work, since it's not a "re-touchable" object—each move had to be right, with color mixes, watercolor washes and an explosive S that had to be just right, perfectly placed as a splashed stroke to the handmade paper stock. It was a moment. A spectacle. Memorable.


Surely, for each of us,
there are others.
I was thinking about symbolical alignments between the design language of a branded space—a place—and allegories of that built environment, and asking the question: "could you link context and concept
to the design planning of a place?"
Of course, this discussion is theoretical,
this concept wasn't built, but it was
a skyward pitch of an ideal that would ultimately
be seen by a person named Bezos.
It was.
Seen.

I'd think about it as
this string of ideas.
Every brand, of course, is about people—people dream it, people make it, humans experience it.
While this is an argued proposition—
"brands aren't human,"
we humbly disagree.
"Brands, built by humans, made for humans."
And retail would be the most intimate to that built-out proposal, since "retail," word-wise, speaks to "retelling," it's a paring or parsing, as in tailoring, a base fabric is retold as a new story; it's not what it was, the materials are newly made into something different.
That's how we think about it.
And any brand story, and retelling, would be manifesting these key factors of strategic inference and analysis, a symbolical or metaphoric…interpretation—and finally, a co-making, co-invention lies in everything that we do. It's never about us alone, it's about our interpretation of that narrative. Listening, what do we hear; working, how is that story reconfigured; collaboratively,
what spectacle might emerge?
Any co-making must presume mindful proximity, close touch-points of team intermingling—as in dreams made real, ideation and
the building of those ideals.

And a couple of other etymological points, "brand's" legacy is a voicing is about "fire." As a first-off interpretation, that "fire" would be passion—the pain of creativity, as I'd intoned before; making things is risky, there is a building commingling of inspiration, design thinking and, perhaps, magic. Doing that as a leader means that this person, this participant, has to be out there, in front—ahead of everything.
To that collaboration, more than three decades ago we developed a multi-sensorial and emotionally-focused workshopping technique, a kind of team-hands-on think-shop. Called BrandQuest®, it's built to support a brand executive participatory summit to promote new ideas: voice, positioning and visualizations. We start there, but the core goal is to get there—new wowness and unforgettable outcomes—as a team nexus of inspiration and new visioning. It's not me,
it's us.
The goal would be to investigate, and uncover, that which is within.
Why?
Since unanswered questions could evince a point of view which could be rejuvenated, revived and vitalized in a new state of being.
In this particular exploration, built as a pitch for a person named Jeff, I worked with my partner, Dawn A. Clark, as both of us have been studying, for sometime, the notion of brand patterning, hidden symbolisms and icons in Osaka, Jakarta, Seoul, the US and Canada—striations, stratification, digital layering.
And then there are the principles, as in:
Architecture, Nature, Magic.
Dawn and I also studied the integrative ideal of designing places that could be, as well, websites which specifically interlink as conceptually interplayed manifestations of architecture and online content.
Designing symbolically then would be interlinking product-driven deep brands, and designing journeys that interlace core attributes, symbolism into one integral line of design thinking, as noted in the pitch booklet.

That would voice the higher evocation of
the brand and its name, its originating function—
and the attributes of its divisions.

Obviously, there would be a gesture to the technological attributes,
the artificial intellect and presence of the machine.

Riverine.

Of course—messaging speaks, but towards a low-level—quieter, even psychic gesture to utility and storytelling.
"It works like this for you."

To journey is human, to find is desire.

Juggling jungle—the complexity
of a robust ecosystem.

The meaning of the pitchbook is a layering of sheaths, on these sleeves, like the tiering of pages, or the cambium of a tree—xylem, phloem intertwined.

Knowledge is a power flow.

The exploration is a tailored study, going into the psychic ecosystem of our relationship with a retailer, tiered in symbolic naming, layering and soulful context—that being where humans are.
Tim Girvin | GIRVIN | OSEAN
CUMULARITY—the quest for inspirational clusters
of ideas, directions and solution pathways