THERE'S A BRAND THAT YOU KNOW, ONE THAT IS CLEAR, CLARIFIED—YOU KNOW WHAT IT STANDS FOR.
AND THERE IS A BRAND THAT IS FOGGED—IT'S UNCLEAR, VAGUE AND FORMLESS.
WHICH DO YOU HAVE A RELATIONSHIP WITH?
What is a brand? It's a marked enterprise that has a coherent link between its cultural and designed representation that is authentically managed for its community and outreach.
A brand needs to have a stance, a personality, a voice and an integrated touchable presence—at least one that works with[in] its communities—interiorly and exteriorly. It works because it's an embraced proposition—it's a known commodity, there's a story, it has a style of presenting its content, the imagery is managed.
Sure, think of it, "what brand is like that for you—one that is distinct and discrete?"
What innovations might you think of, to varying categories of brand type—their place in industry?
I'd think: editorial:
VICE
And I'd suggest that, for entertainment media, I'd suggest:
Disney.
What of luxury?
Vuitton
Automotive?
Toyota
How about hardware?
Apple
Specialized retail:
Nordstrom
General merchandise stores:
Walmart
Fashion?
Tom Ford
Beauty:
LORÉAL
Food?
Danone
Gaming:
Nintendo
Into The Mist:
Ok, there's a bias, we've worked inside these brands.
We tend to think of any business action as a kind of metaphorical expression: there is a journey, an arc of time in the narrative of the brand's storytelling; there are rises and falls in the travels of success and travails of downturn—there is life, there is death; and momentum moves on towards the finding of the shine, brand light, resonant and luminous expressions of enterprises and their offerings.
That would be the power of engaged relationships that are founded on relevant utility, resonant embracement and the carrying-forth of shared stories. The brands above—yes, they are some of the top brands in the world—perhaps not, precisely, the top-ranked brands, but still it's the integrative character of their making, dispersion and implementation. That's clarity.
Brands that are fogged are hidden, you can't tell what they stand for, the why of their making, the principles they uphold, their mythologies are theoretical—their way forward is misted.

What's a fogged brand—when you think about it?
A brand colleague offers: Ann Taylor, Gap, Talbots, Forever21—what are they, what do they stand for? And I'm not thinking about bankrupted propositions—of course, then you're talking J.C.Penney. Sears, K-Mart, BananaRepublic, 3M, Acorns, TurboTax.
I'm sure you've got others in mind.
Foggy? What do they stand for? Cheapness? Commoditized proposition of value?
But there is an allegory there, as well.
In working with brands that move from unclear propositions, fog-cutting is the verb of action—our role is to clarify them, clear their way-forward, in close collaboration with brand teams. That might be Emerald—a virtually abandoned brand. Silk—trying to find its way. That would be Cheerwine—old, to legend. Brands can go in and out of focus—they're clear, then clouded and misted, they're focused, then distracted.
In a manner, while I savor the clarity of beautifully-focused brands, I savor the poetry of mist, for what you can't see through the fog—there's something there and there might be stumbling, but you could find your way.
T H A T   P O E T R Y ?
A
H A I K U
Carl Sandburg
The fog comes
on little cat feet.
It sits looking
over harbor and city
on silent haunches
and then moves on.
J O U R N E Y I N G
Time ticks as you walk in the dark—the stride, a beat; there is emerging or failing light and you realize that your truly reliable momentum measurement is the sound of your footfall; which comes as moment to moment, a careful pace, chants the beat of the earthbound step: sand, pavement, stone, pea-gravel, grass, chipped woods, snow and ice. Each, a rhythm, a story in the journey forward—as branders, thinking metaphorically you might ask the question: "what lies in the environment as I walk around this brand?"
You can't see.
Then you can.
There is a journey—in experience, storytelling, design, and brand and it comes down to what you see, what's touched and tasted, what you hear and listen to and how that is interpreted.
As a designer—what do you see beyond the conventional clarity of the normalized solution-making?
Brand—what's through the fog—who is in the crowd of uncertain demography?
Brand tiering and architecture—how is that journey defined, from here, to there—how does one build beyond the clutter?
Here now,
hear now—[are you] what passes by?

You are into the mist, and, this deed, indeed —
you are in the midst.
A team at GIRVIN,
others in support,
celebrate the idea of the misted [it's a northwest art—we call it Oyster Light,]
the fogged environment
which we see as a potent metaphor
to the grasp of what is seen in scene.
Or what is not.
To brand theory, that metaphor of the mist, the fogged view, it could be seen that there is more to be seen—as in what lies beneath, within and through.
Beyond the complex molecular containment
of the swirl of watery vapors that,
in earth-grasped clouds swath the land
in mystical landscapes of obscuration.
There are about 300 members
of this honorary society,
and anyone that savors
the Fog.
is welcome to join.
Here.
Like us,
and you're in.
Post and publish your stories
and fog imagery as you will.
As I measure out the spin, the stride of next steps, new movements—directions, the beauty of what could be found in that new curve [up the road, that I can't quite see,] I realize there must be, shall be—some uncertainty in the clinging fog of mystery.
That too, is the poetry of being—"what's out there?"
And when we work around brands, we're thinking—what's clear here, what's not? What can we see, what is ill-defined?
In everything,
there is uncertainty.
Anything certain, as a momentary, static statement of condition,
is boring.
Something is there, just up the road—
but what calls:
good—
or bad?
For me, it's always the good, the striking beauty of what we have, or are, experiencing [that opportunity, a blessing unto itself]—simply, at the opening distant sighting you can't quite see; it will reveal itself.
There's something there—reach out and what is it?
It's also about not forgetting
that everything evanesces—in one instant:
it's here—clearly visible; and
in another, the veil crosses and the view vanishes.
And it's gone.
That is our one certainty, surely:
impermanence is immanent.
You're either looking for the good,
in what might come forth—future-bringing;
or you are looking for something else, the contrary.
"What will I lose?"
Look for something—get out there:
that path, that corridor, that boulevard, of and to, light.
Walk that fog-wandered road—you start out, where are you going?
Look down that corridor—that there is Light, something showing you the way—is the beginning intimation of
secret wisdom, love,
celebration of pathfinding,
veiled discovering, sharing lostness,
learning to find and see a new way through,
or the quest for wonderment.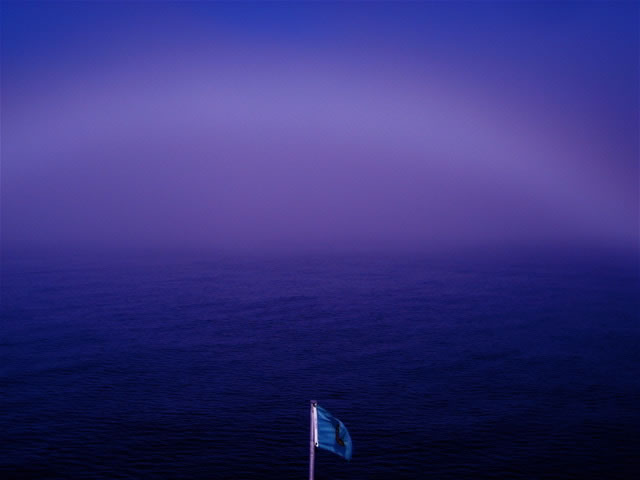 Mist is imagination.
It's the smoke of meditative visioning.
You look into the mist, and you will see what you can—or are allowed to—see.
What your mind will show you, in the blank canvas before you—surely there is poetic allegory there. You can't quite see—so what do you see?
It's up to you to ponder what lies beyond.
And
what
lies
within.
If it was all black and lightless, you'd be forced to fumble and "feel your way"—and who knows where, and how, that might lead you?
With the light of your listening, and the character of the emerging journey—you'll hear things, know things in a new manner, sense new possibilities because you've come further. And coming further, you can go further—that being the most important to any adventurer.
This, of course, applies to everything.
Brands can be clear, or mysterious and hidden—intentionally.
That would suggest that a brand could be easily known and grasped,
or more mystically hidden, concealed—even occult.
That strategy would lie in the authenticity of the maker.
Tim | OseanStudios
…..
GIRVIN
SPEAK, MEMORY. SPEAK TO ME.
THE BREATH OF SOULBRAND